My Name Is Nick Gonzalez – This Is Why I Joined Balbix
I have worked for startups, enterprise companies, and small boutiques throughout my career, and I've enjoyed every experience. Along the way, I have met some incredible people, worked on some fantastic products, and made life-long friends. Though I've enjoyed every environment, my favorite setting is a place that runs with a startup culture. Balbix provides just that.
Why the Startup?
Every tech company claims to have a "startup culture," yet many rarely do. The "startup culture" once included unlimited vacations, catered lunch, endless snacks and drinks, and work from home Fridays. While that attracts most people, I think "startup culture" allows you to wear as many hats as you can, and allows you to sharpen your skills in numerous other areas of the business.
I found that Balbix will offer me this growth. Throughout the interview process, I asked mostly everyone, "What is the best part about your job, and what do you enjoy most about Balbix?" The one common response from everyone I met was, "Balbix is a lean and mean team (not mean like, "you can't sit with us!" mean, but mean as in mighty), we don't get to do just one job, but we get to work on other areas we are interested in learning more about.
While being great at one specific area works well for most people, it can get a bit stale for me. I love learning about new technology and cybersecurity, as the environment is continually changing. Taking on more responsibility was something our Founder and CEO, Gaurav Banga, highlighted in his blog, 5 reasons why you should work at Balbix (and 3 reasons why you should not ….), and that's what I think makes him a great leader. Qualities like these make Balbix an innovating force in cybersecurity.
Core Values
Before I started, I did what any new diligent candidate does, and researched to find what the company values are. In the blog mentioned above, I found the company values ownership, customer focus, curiosity, tenacity, innovation, judgment, teamwork, communication, honesty, and impact.
I am not going to break down each of the values, but I will share the ones that stood out to me.
Ownership/ Impact – To me, these go hand in hand. You have a job to do, you own that job, and show what impact you have on the company. Impact does not always have to reflect a financial drive (however, this is very important that you do), but the impact on the team and organization is also significant. That leads me to my next point.
Teamwork/ Communication/ Honesty – I've always said, "teamwork makes the dream work." Where there is teamwork, there is communication; where there is communication, there is honesty. Balbix has provided me with a welcoming environment where I feel team members can collaborate with an open and honest line of communication. As an extrovert, being able to bounce ideas off my colleagues will give me the courage to speak up when I believe something needs improvement. Teamwork is the only way a company can thrive.
All About Culture
Culture can't be stressed enough. Having a toxic work environment will turn off just about anyone. I wanted to be a part of a company that provides a balance of "work hard, play hard." I appreciate that the startup culture is usually fast-paced, with everyone working hard to achieve the same common goal.
While everyone must work hard, you should take some time to have a bit of fun with it. Take one look at our social media accounts, and you will see that we are not like other companies in our space. We experiment with memes, we have created a comic strip and shareable and valuable content that challenges the way you look at your cybersecurity hygiene.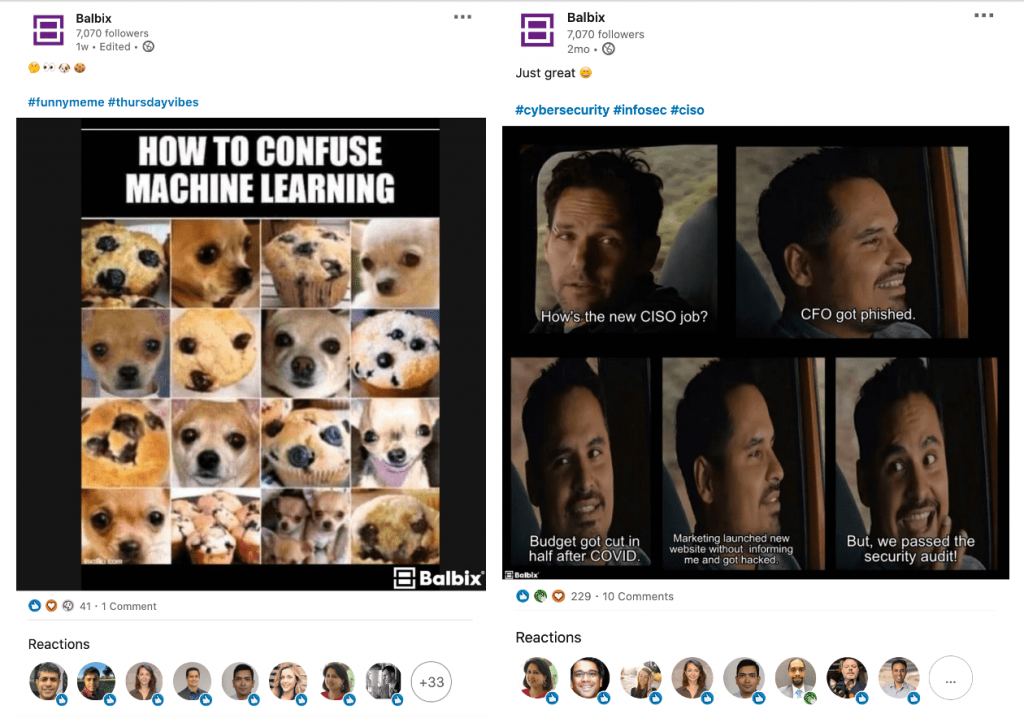 After researching the company, speaking to colleagues, and going through the interview process, I quickly realized Balbix was the company for me. It fit my personality. I know I'll be able to come in, take chances, and express myself. I believe the future is bright for Balbix and me – I'm grateful to be along for the ride.
And guess what? Balbix is hiring in all departments. If you're up for the next big challenge, innovating at the intersection of AI and cybersecurity, check out our careers page!
Recent Articles By Author
*** This is a Security Bloggers Network syndicated blog from Blog – Balbix authored by Nick Gonzalez. Read the original post at: https://www.balbix.com/blog/this-is-why-i-joined-balbix/