Introducing the new Application Owner Alerts Workflow Tool!

One of the biggest challenges we face while helping our customers mitigate third-party risks, is that not all incidents are clear cut, as in not everything is "good vs. evil". Some vendors should have access to users' data, while some should not. Some applications are managed by the marketing department, while others are simply OS framework used by R&D teams.
To resolve this issue we are now excited to release our Application Owner Alert Workflow, which  allows security teams to automatically collaborate the risk mitigation process with colleagues from other departments.  With the release of version 2.6  you can now determine who the 'application owner'  is for each third-party running on your website.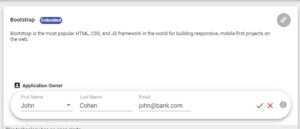 Any alert or risk detected by the platform, will simultaneously be sent to the application owner and your security team. Your colleagues from other departments will be able to handle the alerts and resolve them, but every action will be notified and logged. 

To save you more time and make it super efficient, all the actions dedicated to you or other departments can be done directly from your email or other supported integrations. Try it now!
---
Not a client yet? It's time now to keep your website safe!
Contact us for more details
---
The post Introducing the new Application Owner Alerts Workflow Tool! appeared first on Reflectiz.
Recent Articles By Author
*** This is a Security Bloggers Network syndicated blog from Blog – Reflectiz authored by Reflectiz Team. Read the original post at: https://www.reflectiz.com/app_owner_version2-6_release/?utm_source=rss&utm_medium=rss&utm_campaign=app_owner_version2-6_release