You Asked, We Delivered: SANS Introduces Electronic Courseware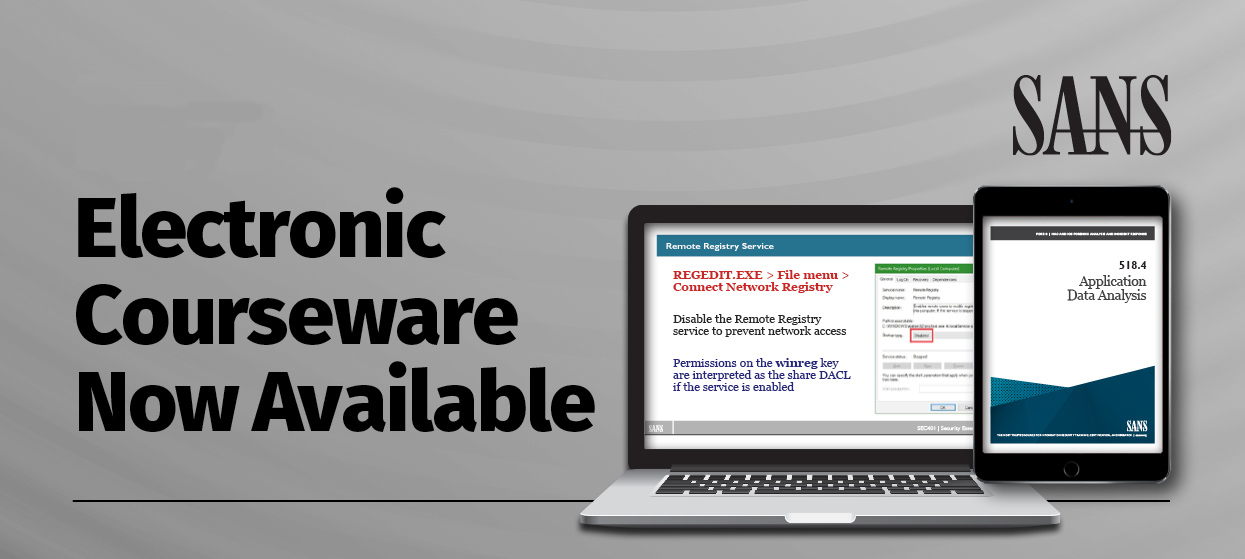 We're excited to share that SANS now delivers electronic, full-color courseware and materials with all courses, at a time when accessibility needs to be most flexible.
Our new electronic courseware features full-color content and visuals, along with annotation for highlighting and underlining, a magnification tool for zooming in on images and text, and CTRL+F functionality to easily search and find items quickly. You won't have to carry around loads of heavy books, and you can feel good about your contribution to reducing our environmental footprint as we consume less paper.
The basics:
Everyone who registers for training on or after April 13, 2020 will receive their electronic courseware via their SANS Account dashboard
Those who bundle a GIAC Certification attempt with their course will receive printed books as well
Those who do not bundle a GIAC Certification attempt with their course can purchase printed books for $95 USD
Want more details about our new electronic courseware? We've got answers to some of your top questions below.
Who receives electronic course books?
Students registered on April 13, 2020 or later will receive PDF book files as part of their registration. Those receiving electronic courseware who want hard copies can request printed books at the cost of $95 US dollars, but we cannot guarantee that these books will arrive prior to the course start date.
Students who purchase a course that contains a hardware kit or bonus book will receive the kit in the mail at no additional charge, and students in a US Federal Program will continue to receive physical books and USBs.
Students who purchased a GIAC Bundle will receive printed books, shipped to the address on the student's account at no additional charge.
I took a SANS course before April 13, 2020. Can I get electronic copies of my books?
No, these documents are not available for previous course runs.
How can I request printed books?
You can request printed books during the registration process. As shown in the below image, you should click on the "Request Physical Books" box in the Add-Ons section in the course registration dashboard.

If you are already enrolled in a course but want to request printed books, contact us at +1-301-654-7267, Monday-Friday, 9:00 AM-8:00 PM EDT/EST, or by emailing [email protected].
Can I print my PDFs?
No, printing has been disabled as a copyright protection. Students can request a set of printed books if they find this necessary.
How is electronic courseware distributed?
Books, handouts, and poster PDFs will be available for download in your SANS portal account. ISO images of all the USBs used in the course will also be available for download, along with a "USB ISO Mount Guide" that explains how to mount the ISO image on your host computer and "Lab Setup Instructions" that are customized for the course. Please be aware that students must be in one of the following payment statuses to access these materials: Paid, Partial Paid, Comp, Invoice, or PO Paperwork.
Can I cancel my class after I download the materials?
Once you have downloaded your course materials, you are no longer eligible for a refund, but you are eligible to transfer to a different class or receive a credit for a future class.
Live Online course students can download materials seven days before class begins. If we identify a student who is in the wrong course, we will move them into a more suitable course and provision new materials.
Why is SANS making this change now?
There are many reasons why now is the right time for SANS to make this change. First, our students have asked for softcopies of books and color books before, and by providing electronic documents now, we're able to solve both issues and contribute to the happiness of our students.
Additionally, SANS made the decision to modify all in-person training events scheduled through September 1 for the safety of our students, staff, instructors, and facilitators, moving as many trainings as possible to virtual formats. This was the right decision, but it has made distribution of physical course materials much more difficult.
With the changing travel restrictions and closures due to the COVID-19 pandemic, freight services are prioritizing the delivery of essential goods and SANS is experiencing unavoidable shipping delays. Electronic distribution ensures students can access their course materials before classes begin.
---
If you still have questions, or want to talk through your options, we're always happy to assist our students. Call +1-301-654-7267, Monday-Friday, 9:00 AM-8:00 PM EDT/EST or email [email protected] anytime.
Recent Articles By Author
*** This is a Security Bloggers Network syndicated blog from SANS Blog authored by SANS Blog. Read the original post at: http://feedproxy.google.com/~r/SANSForensics/~3/hKLuDzx1zfE/you-asked-we-delivered-sans-introduces-electronic-courseware