New Cyber Threat Index Shows Industries Are Under Attack in Uncertain Times
It has been more than a month since businesses around the world started to implement contingencies in response to the Coronavirus. The Cyber Threat Index Report by Imperva Research Labs tracks changes in traffic and attack trends across multiple industries and countries. This month's edition looks at how COVID-19 is affecting all industries across the globe.
Our researchers have found that while some sectors are experiencing a dip in the number of attacks, on the whole they remain consistent. As the chart below shows, certain sectors have experienced a significant increase in attacks over the past few months: attacks on gaming are up seven percent, food & beverages are up six percent, and financial services are up 3 percent.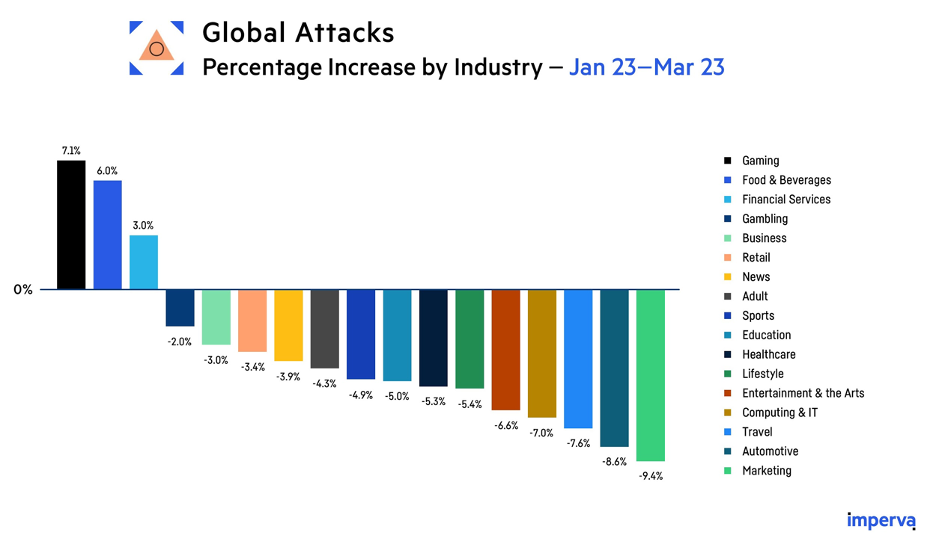 * Food & Beverage figures include Grocery Retail
Target Industries
The food retail sector is especially impacted by these uncertain times. As people around the world shelter-in-place, many are relying heavily on food delivery services. This has caused an unprecedented surge in online traffic with a reported 700 percent spike in traffic to food-related e-commerce sites. While the sector is riding the wave of the current health crisis with a massive boost in sales, even the biggest grocery retailers are struggling to meet demand.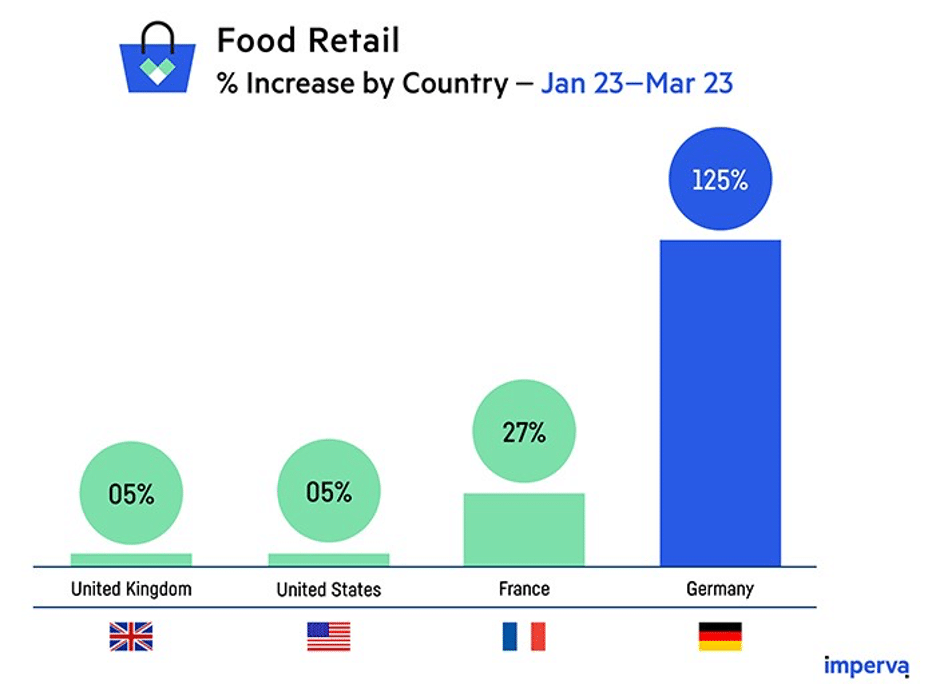 Our findings show a six percent increase since January in the number of attacks targeting food retail globally. However, when looking at attacks by country, Germany stands out for experiencing a huge, 125 percent spike in cyberattacks on its food retail sector since the crisis began.
In non-essential retail there has been little to no change in some countries while others – such as Belgium and the United States – show sharp spikes in attacks.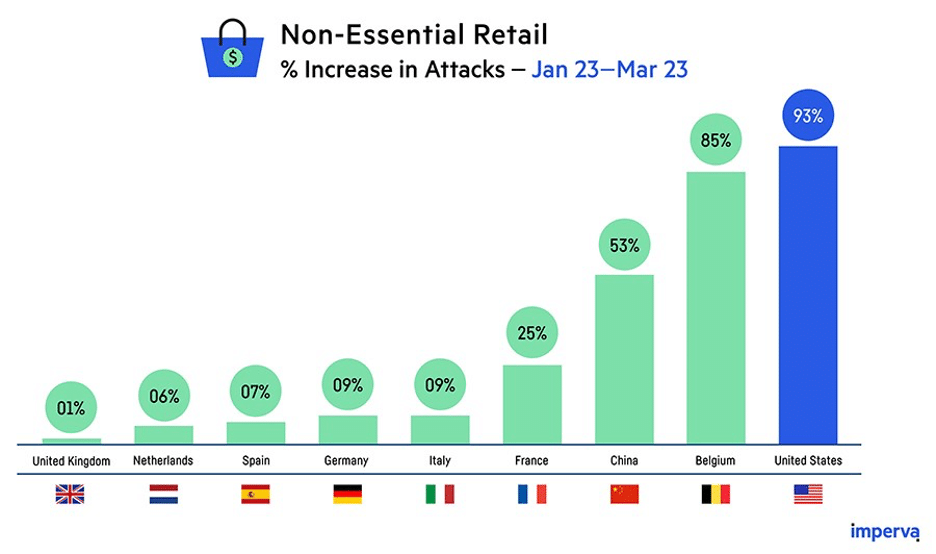 The rate of increase in attacks differs by country for each industry. Our findings show serious growth in the number of cyberattacks targeting law and government organizations in France (up 12 percent) whereas in other countries the financial services sector continues to be a top target with attacks in China up 66 percent and Germany up 51 percent. Italy is not far behind with a 45 percent increase since January. The research also shows that other lucrative sectors like the gambling industry are becoming more of a target, with attacks up 25 percent in the US and 31 percent in the UK.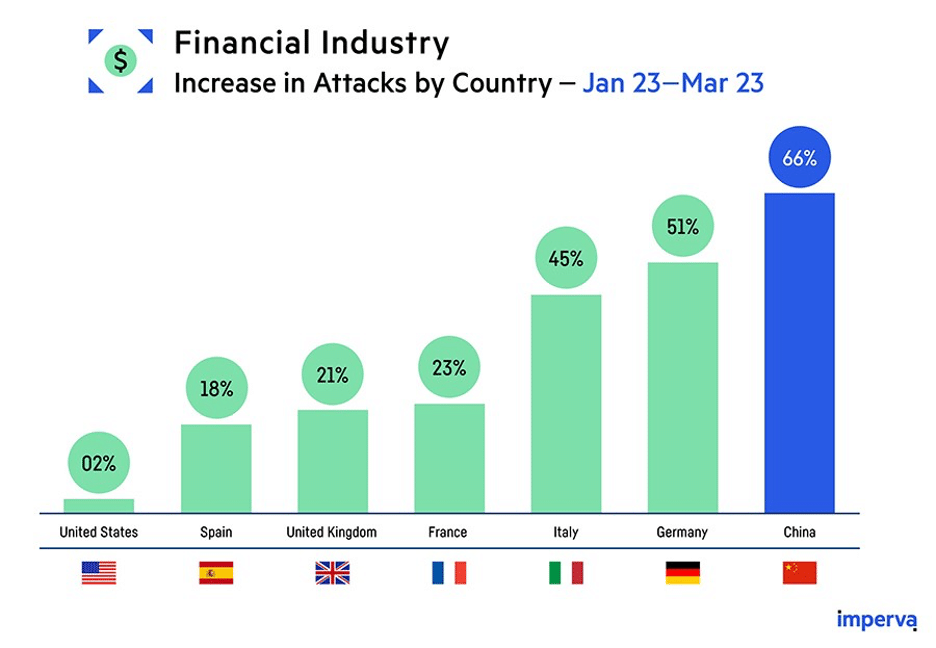 The industries identified by Imperva Research Labs as coming under increased attack have two things in common.
They are all experiencing an exponential increase in online demand for their services.
They all collect, process, or store significant amounts of personally identifiable information (PII), credit card details, or other banking credentials.
This type of sensitive data is highly sought after by cybercriminals and the surge in traffic to websites in these sectors caused by the global lockdown means more customers are sharing their information online. Additionally, many  remote security teams are overwhelmed by the increased volume of alerts which increases the risk of a real threat slipping through the net to access your data. The enormous demand for these online commercial services make them an easy and highly lucrative target for experienced fraudsters who are out to capitalize on the global pandemic.
The Cyber Threat Index (CTI) is a monthly measurement and analysis of the global cyber threat landscape across data and applications. Read more about our expert industry analysis in the full CTI report here.
The post New Cyber Threat Index Shows Industries Are Under Attack in Uncertain Times appeared first on Blog.
Recent Articles By Author
*** This is a Security Bloggers Network syndicated blog from Blog authored by Grainne McKeever. Read the original post at: https://www.imperva.com/blog/new-cyber-threat-index-shows-industries-are-under-attack-in-uncertain-times/