IC3 2019 Internet Crime Report Hot Topics | Avast
The FBI has released its 2019 Internet Crime Report, a summary of the year's cybercrime incidents as reported to the Internet Crime Complaint Center (IC3). In addition to providing crime stats, victim stats, and financial loss info, the FBI also details the year's most prevalent cybercriminal trends in the report. Notable mentions for 2019 were Business Email Compromise (BEC), Elder Fraud, Tech Support Fraud, and ransomware.
BEC is a scam where bad actors manipulate their victims into transferring corporate funds. The businesses targeted are those that tend to make wire transfers on a regular basis. Email Account Compromise, or EAC, is the private individual-targeted version of this scam. According to the FBI report, BEC/EAC scams were the cybercrimes that caused the most significant financial loss in 2019, hitting 23,775 victims and netting a total of $1,776,549,688 in stolen funds. 
While BEC scams have been a routine cyberthreat since 2013, the FBI reports that it used to involve the bad actor spoofing a CEO's or CFO's email address then commanding an employee to make a wire transfer, whereas today's trend sees attackers pretending to be an employee, requesting that payroll "update" their direct deposit information. 
Elder Fraud, another hot topic of 2019, consists of those scams targeting victims over the age of 60, predicated on the beliefs that this older generation has significant financial resources and is more easily intimidated by new digital practices. Investment Fraud, Sweepstakes Scams, and Home Repair Scams and Romance Scams are just a few of the fraudulent schemes the FBI list as being launched at this demographic. In 2019, the IC3 received 68,013 complaints of Elder Fraud, with losses totaling over $853 million.  
"Our elders increased online activity is making them more susceptible to phishing emails, fake malware infection pop ups on social media and more," commented Martin Hron, a senior researcher at Avast, "Because of higher anonymity of criminals in cyberspace, the digital era brings many new challenges on how to protect our elders. We can start today by raising awareness in families and teaching the basics on how to be safe online."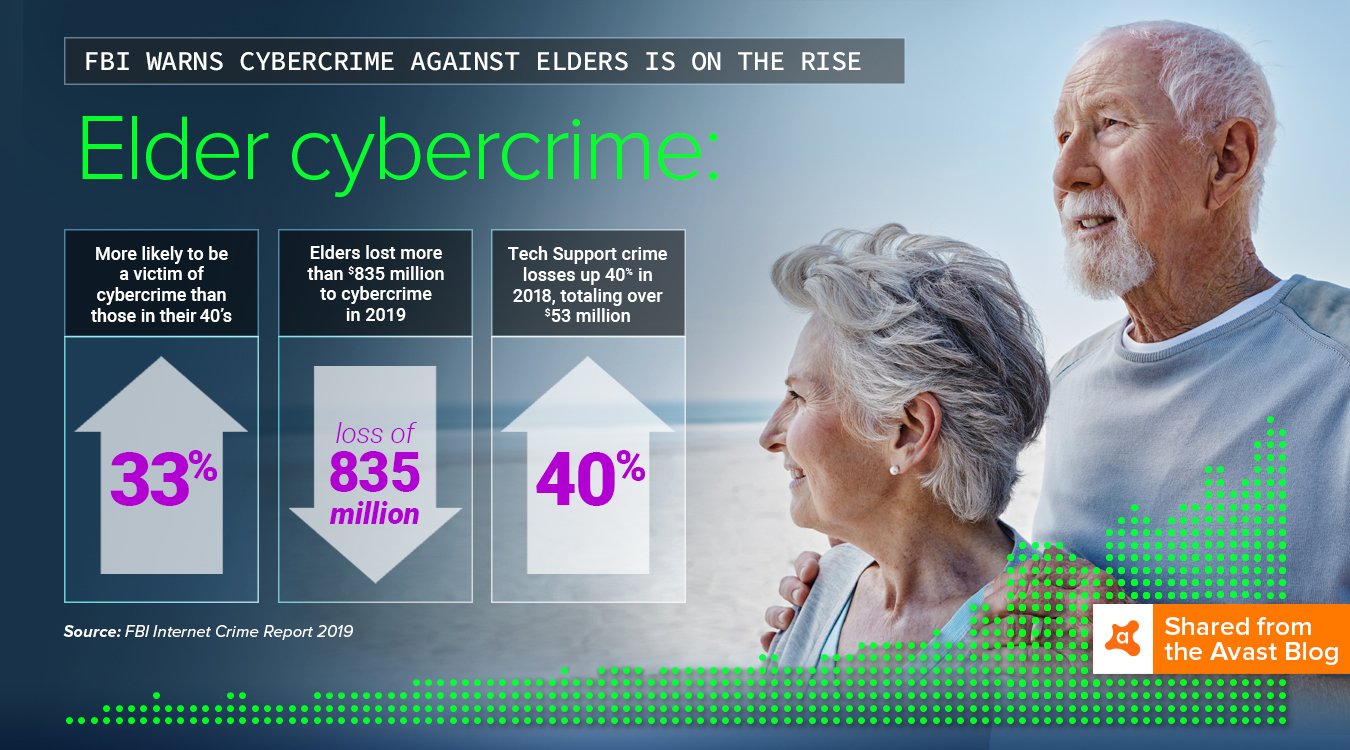 Tech Support Fraud is another type of scam that falls under the Elder Fraud category, but it can also be directed at victims of any age. The FBI gives it special mention in the report for its spike in frequency, increasing 40% since 2018. This scheme involves attackers posing as customer support, pretending to help victims with an account or cybersecurity issue. The Bureau received 13,633 complaints of this type of fraud in 2019, with losses totaling over $54 million. 
The report rounds out the hot topics with ransomware, that ubiquitous threat found in news headlines within any given week. Receiving 2,047 complaints of ransomware in 2019, with victims suffering losses of over $8.9 million, the FBI reminds the public that some victims who paid the requested ransom never received decryption keys. For this reason, and to discourage more ransomware crimes in the future, the FBI strongly advises all victims not to give in to ransomers' demands. 
All in all, the FBI received a total of 467,361 cybercrime complaints in 2019, with reported losses amounting to over $3.5 billion. One of the IC3's core functions is public awareness and to serve as a hub for cybercrime defense intelligence. "We encourage everyone to use IC3 and reach out to their local field office to report malicious activity," writes Cyber Division Assistant Director Matt Gorham in the report, adding, "Cyber is the ultimate team sport."
---
Avast is a global leader in cybersecurity, protecting hundreds of millions of users around the world. Protect all your devices with our award-winning free antivirus. 
Recent Articles By Author
*** This is a Security Bloggers Network syndicated blog from Blog | Avast EN authored by Avast Blog. Read the original post at: https://blog.avast.com/ic3-2019-internet-crime-report-hot-topics-avast