The SSL Store and ManageEngine team up to simplify Certificate Management
A powerful, new, one-stop solution for all
your digital certificate and key management needs
For
the past decade The SSL Store™ has built its reputation as the premier SSL
service in the world, working closely with some of the biggest names in the
cybersecurity industry. Today, The SSL
Store™ is proud to announce
its newest technology partnership with ManageEngine,
Zoho Corporation's IT management products division. This brings a tight
integration of ManageEngine Key Manager Plus with The SSL StoreTM which
provides a wide range of benefits to customers of both the products.
ManageEngine
has assisted over 180,000 organizations around the world – including 60% of the
Fortune 500 – with managing and simplifying their IT needs. With
this new partnership, The SSL Store's reach has never extended
further.
As
part of our recent push into the Enterprise space, we've been diversifying our
certificate management offerings. This new partnership with ManageEngine Key
Manager Plus further extends our ability to assist our partners – from
SMBs on up to the Enterprise – with securing every aspect of the digital
certificate and digital key infrastructure, from SSL to SSH and everything in
between.
Attacking Enterprise Pain Points
One
of the biggest problems facing modern businesses is certificate and key
management, there's no shortage of eye-popping statistics.
73% of IT pros believe failing to secure keys and certificates undermines trust
71% of organizations have no idea how many certificates and keys they even have
61% of organizations are concerned they can't secure keys through all stages of the life-cycle
74% of organizations have experienced downtime or an outage due to certificate expiry
"Big enterprises today witness a proliferation of critical assets that house and process huge volumes of sensitive information. Access to these resources needs to be secured and authentication should be regulated. SSH keys and SSL certificates, like passwords, serve as authentication credentials for a lot of such crucial systems but are often overlooked. Hence it is important for organizations to figure out a way to secure and manage these forgotten credentials when building their privileged access security strategy", said Vasudevan Seshadri, product manager, ManageEngine Key Manager Plus.
And
that just covers organizations' concerns with certificate and key management.
For a better sense of the scope of the problem, take a look at this.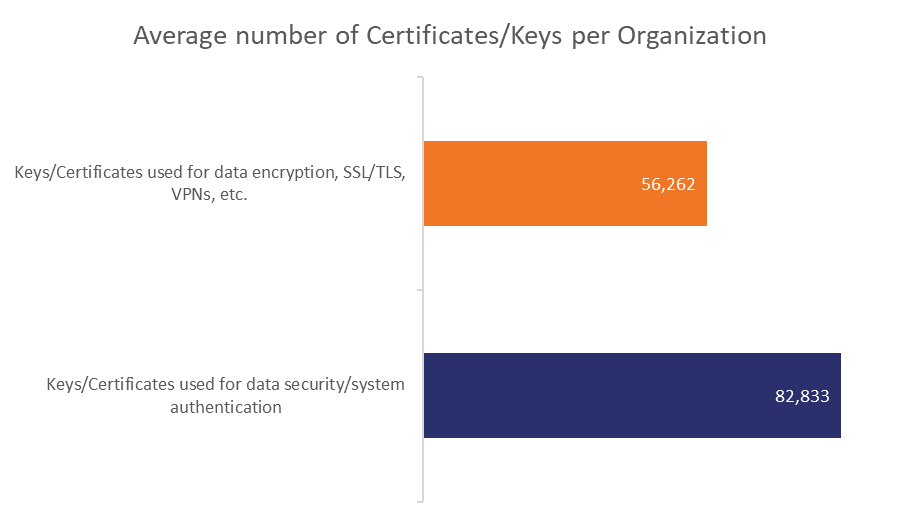 So
why is this such a big problem? Because many organizations have some pretty big
misconceptions about certificate and key management. Specifically, that it adds
cost and complexity at the expense of productivity.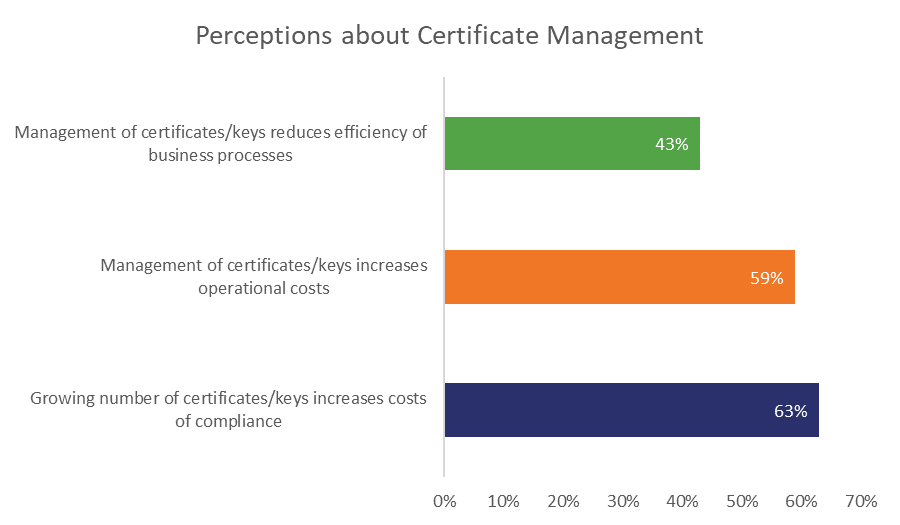 The
SSL Store™ and ManageEngine are determined to challenge that thinking by
providing an affordable certificate and key management solution that provides
visibility, oversight and a streamlined interface to control it all.
Key
Manager Plus is a web-based key and certificate management solution that
helps IT admins discover, consolidate, create, deploy, renew and audit the
entire life cycles of SSH key and SSL certificates. It is an on-premise
solution, where clients download network/server agents and access the
management platform via browser. It's never been easier to interface with your
digital certificate and key implementations, procure additional certificates
and manage all stages of the lifecycle.
Compliance ends with bad certificate and key
management
There's
never been more red tape to cut through in modern business. Whether it's
domestic laws, international regulations or industry standards – chances are
your organization has to comply with something. Mis-managing digital
certificates and keys is a great way to run afoul of that.
According
to a recent study, poor certificate/key management cost the average
organization just over $15-million in penalties for non-compliance and
failed audits over the past two years. Mis-management can lead to breaches, attacks
and a complete loss of trust. There's no shortage of both statistical and
anecdotal evidence to bear that out.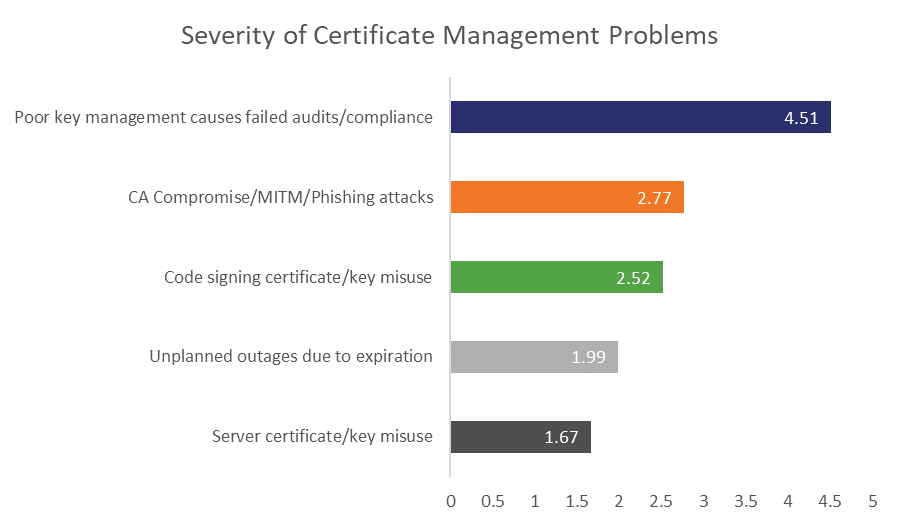 How ManageEngine Key Manager Plus
& The SSL Store solve these challenges
Key
Manager Plus solves most of these problems by consolidating all of an
organization's certificates and keys onto a single platform – that includes
both publicly trusted and privately issued certificates and keys – and offering
granular control over every aspect.
Complete visibility over all certificates and keys
Complete control through a single, easy-to-use interface
Completely avoid unforeseen expiry and/or disruptions
Completely automate issuance, workflows and lifecycles
Complete compliance solution right at your fingertips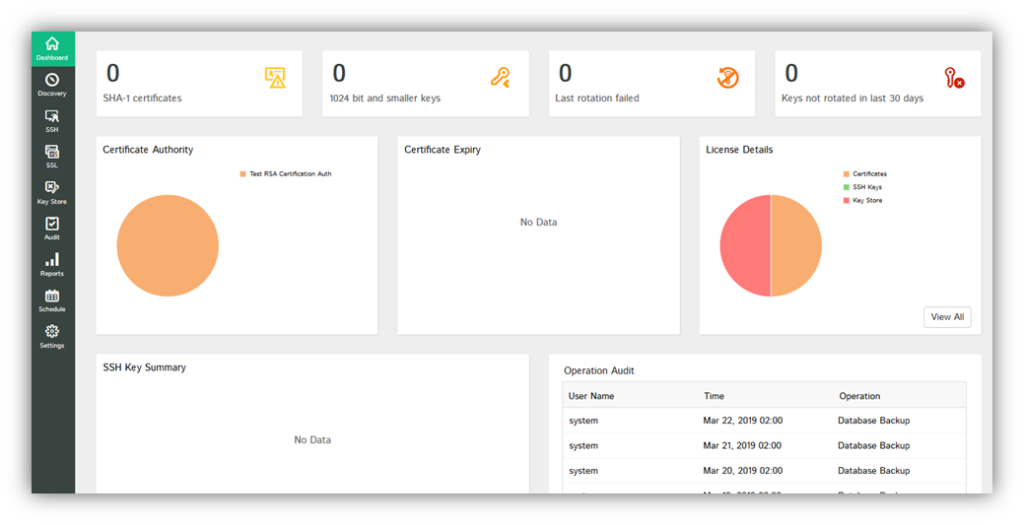 The Key Manager Plus
dashboard allows organizations to manage all aspects of SSH keys and SSL
certificates from a central dashboard, complete with granular user permissions,
reporting, and more.
Let's
take a look at some of the actual features, too. We preach certificate
management best practices so often that sometimes the advice feels more like a
platitude than an action item. Heck, we've even written a white paper on the
subject. But when we say, scan and gain visibility over all of your
certificates – what does that mean?
Here's
a look at how you actually scan for certificates and keys.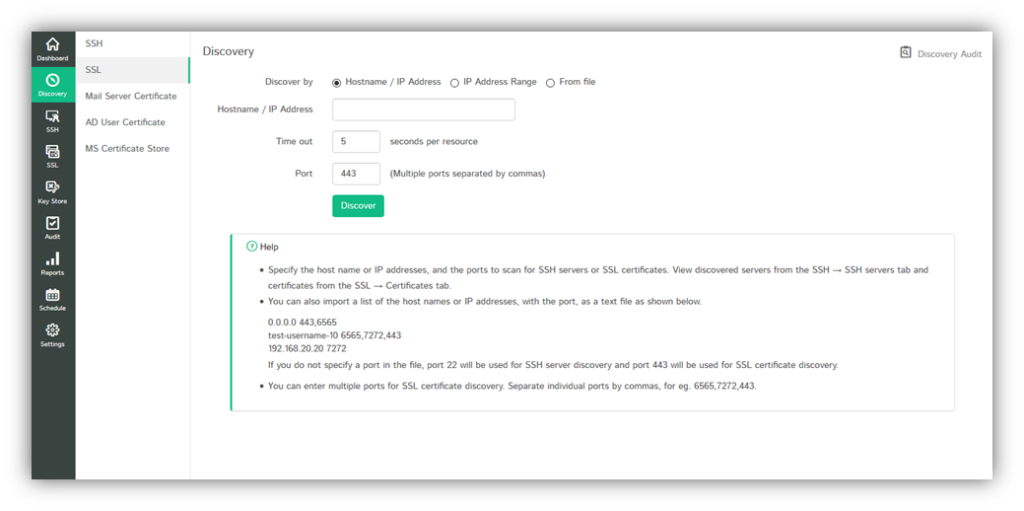 It's
not nearly as complicated as it sounds. It may be on other platforms – not here
though. You've got several options for running your scans, you can go by a host
name, IP address or an IP range. Just plug in the information, pick your port
and let Key Manager Plus do the rest. Once it's finished it will compile what
it's found into a list that gives you control through a single, easy-to-use
interface.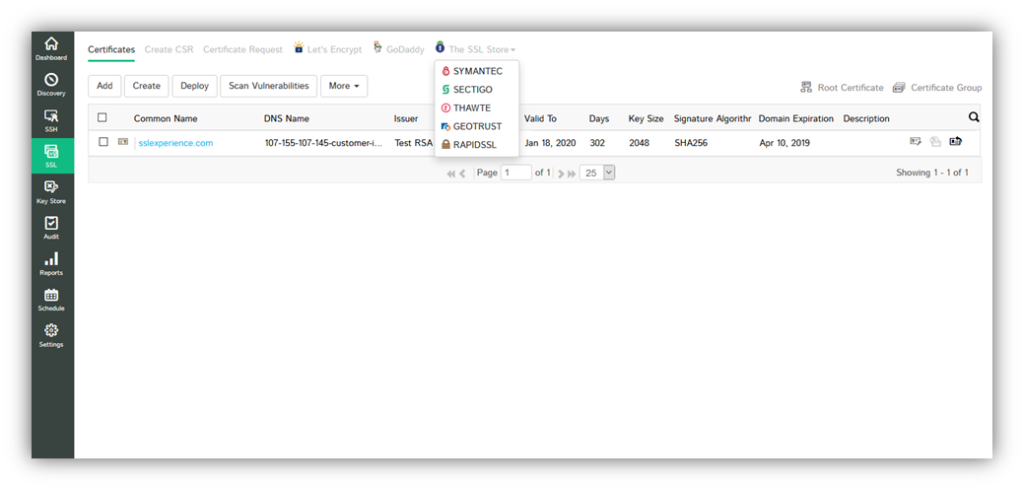 We've
only set up a single test certificate so that you see how the certificate
information will be displayed, but this control panel will be much more crowded
once you run your scans. At the top, if you'll notice the dropdown, you'll see
that you can purchase SSL/TLS certificates from The SSL Store™ right through
this interface with just a few clicks. This integration will save you time and
offer access to higher-value business authentication certificates as needed.
Everything is done right there on the platform, from generating the CSR to
submitting the certificate request to deploying it via your company's Active
Directory.
When
you click on an individual certificate, it gives you a complete rundown of the
information contained in it, as well as the option to export it.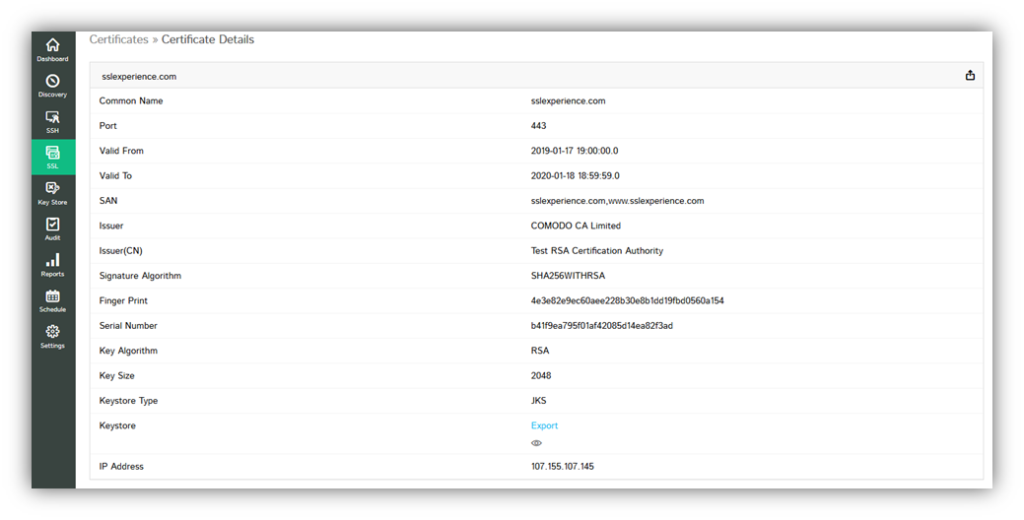 There's
also a robust reporting feature. As we discussed earlier, compliance is one of
the biggest concerns for most organizations, so the ability to get in-depth
reports with just a couple of clicks both saves times and assists with your
compliance and audit requirements.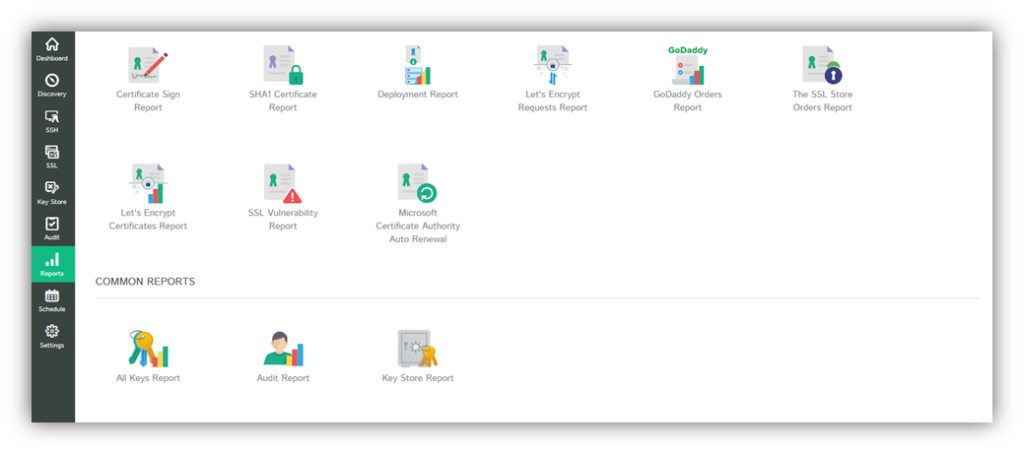 Hopefully
this gives you some actual insight into the usefulness of a platform like this
– as opposed to the opaque glimpse you normally get when you read about these
kinds of products. We wouldn't be writing about this, much less partnering with
ManageEngine, if we didn't think this was helpful. It is.
Not using Key Manager Plus yet? Sign up for a free trial here.

Sign up for your free trial of Key Manager Plus today!
Integrating ManageEngine Key Manager
Plus with The SSL Store
Thanks
to the integration with The SSL Store, Key Manager Plus users can now:
Acquire certificates from trusted CAs, including Sectigo, GeoTrust, & Thawte.
Auto-import newly purchased certificates.
Save money with Enterprise and volume discounts on all SSL certificate purchases.
Choose from flexible billing options, including credit card, wire transfer, and NET 30.
24/7 support from SSL experts.
Get
started by signing up for an Enterprise Account with The SSL Store. You can
connect your account from within the Key Manager Plus dashboard.
Recent Articles By Author
*** This is a Security Bloggers Network syndicated blog from Hashed Out by The SSL Store™ authored by Patrick Nohe. Read the original post at: https://www.thesslstore.com/blog/the-ssl-store-and-manageengine-team-up-to-simplify-certificate-management/