Welcome Our Newest Axion Jill Rosenberg, Director of UX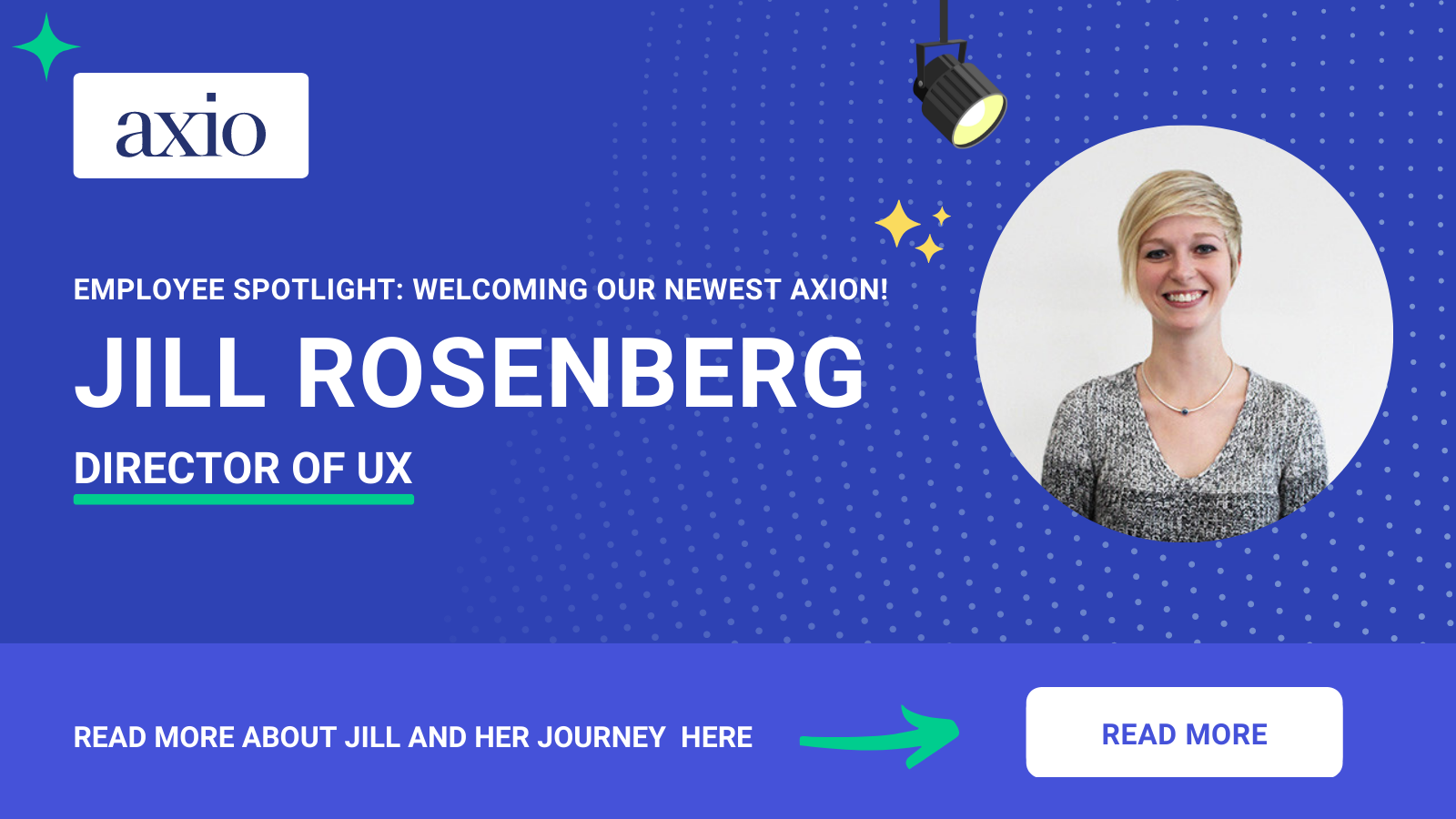 Despite the dog days of summer, Axio is growing…and we're growing fast! In our new employee spotlight series, you will have a chance to meet the newest members of the Axio family.
We are excited to welcome Jill Rosenberg to the team. Jill, Axio's Director of User Experience (UX), has spent many years in the cybersecurity space, designing and architecting usable security solutions for a range of cybersecurity startups. In this post, you'll get to learn a bit more about Jill, her background, her career path, and what made her decide to join Axio.
Our team is vibrant, diverse, and growing – and we want you to help accelerate our mission to fundamentally transform how companies manage their cyber risk.
How did you get started in UX?
I started my design career working for a biometric security startup based in Boston. During my time there, I got my first real UX experience working on an MFA app and quickly realized that I enjoyed the more complex problem solving that UX design offers.
What do you like about UX?
Growing up, I always enjoyed two subjects the most – math and art. One is very logical with only a single correct answer while the other is very open-ended. UX ties these two ways of thinking to build logical systems but also leaves room for creativity to bring new ideas to market.
How did you get started in cybersecurity?
I got started in cybersecurity as soon as I took my first design job. Working with biometric security, I was able to truly learn the meaning of usable security and the importance both usability and accessibility had in the success of the product.
What do you like about cybersecurity?
I started in cybersecurity because I think it is more interesting to design for technically complex products. I enjoy the challenge of understanding the technical background, customer needs, and then figuring out how to create a solution that makes it easy to use and understand.
What's your favorite Food?
My mom makes the best homemade pasta sauce and eggplant parmesan – both family recipes.
What made you apply to Axio?
As a usable security UX practitioner, Axio's value proposition is very interesting. Helping organizations understand their risk by leveraging compelling designs to fill the socio-technical gap is an intriguing problem to solve.
Do you have a pet?
I have two corgis, Willow and Wollie. They occasionally supervise Zoom calls.
Welcome to the team, Jill! Stay tuned for more employee spotlights…
*** This is a Security Bloggers Network syndicated blog from Axio authored by Axio. Read the original post at: https://axio.com/insights/welcome-our-newest-axion-jill-rosenberg-director-of-ux/