Groups & User Right Management
Organizations are diverse and as organizations grow, they end up owning multiple web assets that need protection. At Indusface, we have customers who end up using our AppTrana solution for hundreds of assets at a time. In such cases, it becomes humanly impossible for organizations to have a single person to manage all these assets. As a product manager, we see it as a sign of maturity of the product when we start hitting such issues and have multiple customers asking us for features to better organize their assets within the product. One of our core strengths and reason for our continuous growth is our ability to listen to our customers and address their needs quickly.
Along these lines, I am happy to announce the introduction of the Groups feature and re-alignment of user right management to ensure scalability of the product. This will enable organizations with diverse needs to use AppTrana seamlessly. Asset management within the product is a breeze. We have created the features to be intuitive and seamless enabling anyone to use them without much guidance.
Creating Groups:
Customers can create Groups in 2 ways:
Quickly from the overview page, by clicking on the 'Create Group' button

Or go to Manage Tab and Create groups from Group section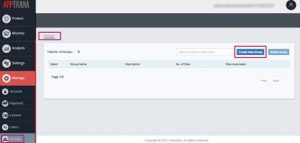 Creating groups is very simple, you will have to name the group, provide a description based on an identifying characteristic, and then add sites to the Group.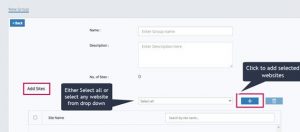 User Management
Once the groups are created, these groups need to be assigned to users. If you don't know already, we generally have 3 roles in AppTrana that can be assigned to a user. Customer Admin, Website Admin and Read-only Admin.
Customer Admins are super admins who have complete rights to the product. Customer Admins should be limited and generally, any account should not have more than 3-4 Customer Admins. In the case of Groups, Customer Admin will have access to all groups created for a customer account. Any new groups created will automatically assigned to the Customer Admin.
In order to make management easy and scalable we have decoupled website admin rights and read-only rights from the user and have associated it to websites or Groups. This means a user can now be Website Admin for certain assets wand Read-only Admin for other assets. This provides the much-needed flexibility that many of our customers have been asking for. So now when a user is created, he or she can be given read-only rights for certain websites/groups and website admin rights for other assets.
Once the groups and websites are assigned to a user, the user will only have access to the assets assigned to him and can perform functions based on the rights assigned to him.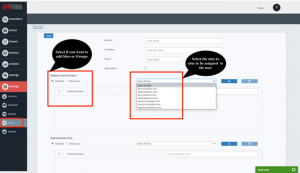 In addition to providing the required organizational capabilities for our enterprise customers, these features also form the building blocks of additional features like reports for groups, notification controls around groups, etc. We are working towards these features and they will be made available shortly.
I encourage you to try out these features and reach out to us if you have any queries or feedback.
The post Groups & User Right Management appeared first on Indusface.
*** This is a Security Bloggers Network syndicated blog from Indusface authored by Vivek Gopalan. Read the original post at: https://www.indusface.com/blog/groups-user-right-management/