What's the 411 with the updated CySA+?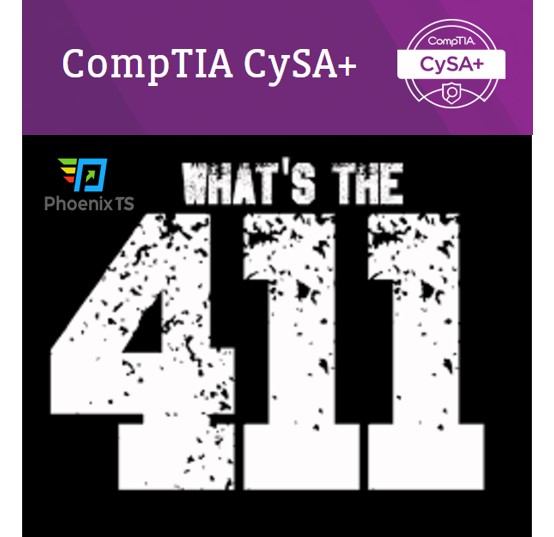 What's Changing?
The CompTIA CySA+ (CS0 – 001) will retire on October 21, 2020. The new CySA+ (CS0 – 002) is now available and includes more coverage of the following areas:
Software and application security
Automation
Threat hunting
IT regulatory compliance
The exam domain changes will be as follows:
| | |
| --- | --- |
| CYSA 001 | CYSA 002 |
| Threat Management: 27% | Threat and Vulnerability Management: 22% |
| Vulnerability Management: 26% | Software and Systems Security: 18% |
| Cyber Incident Response: 23% | Security Operations and Monitoring: 25% |
| Security and Architecture Sets: 24% | Incident Response: 22% |
| | Compliance and Assessments 13% |
What to expect when taking the Exam?
Exam details:
85 questions on the exam
Multiple choice and performance based
The exam length is 165 minutes
Minimum of 750 to pass
Test Delivery: Pearson Vue
Retail Price $359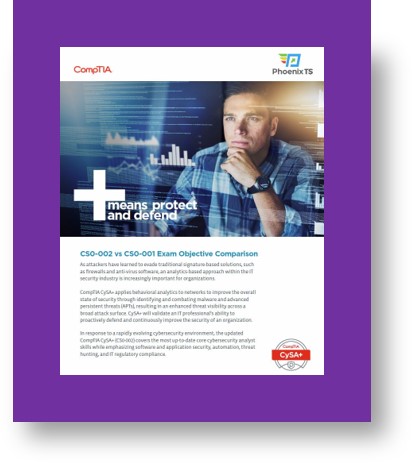 Why you should take the test?
The CySA+ certification will set you on a path to a rewarding and successful career in IT. The certification is distinguished certification that is recognized by the Department of Defense (DoD) as an 8570-baseline certification. (Corey, T.) Therefore, the CySA+ certification verifies that cyber security professionals have attained the knowledge needed to provide top notch IT expertise to organizations. (Why Should I get CompTIA CySA Certified?) The certification is also recognized for meeting worldwide technological standards making it compliant with ISO 17024 guidelines as well. (Personal Certification Bodies)
A CySA+ certification gives professionals options in the IT field. The certification is "vendor neutral" making it compatible across many technologies and within different fields, (Corey, T.) The job market for CySA+ certification holders continues to show positive increase. According to the U.S. Bureau of Labor Statistics, the expected increase is 28% or 28.500 job openings between 2016 and 2026 and the average annual pay of an IT professional with a CySA+ certification is $98,350 annually. (McKenzie, C.) IT professionals can look forward to pursuing the following careers:
IT security analyst
Security operations center (SOC) analyst
Vulnerability analyst
Cybersecurity specialist
Security engineer
Cybersecurity analyst
Threat intelligence analyst
How can you Prepare?
CompTIA advises that you have the following:
3-4 years of relevant experience
CompTIA Network + certification
CompTIA Security + certification
What to expect after?
After Phoenix TS helps you gain your CySA+ certification, the CySA+ certification is valid for three years. However, you are eligible to recertify by earning CEU's and paying a $50 fee. (Corey, T.) Also, if you need to renew your Security + certification, the CySA + certification will renew Security + as well (Blackwell, J.) Having the skills acquired through this certification will also put you on the path to higher level certification such as Pen Test +
Phoenix TS can help!
Phoenix TS is a CompTIA Platinum Partner training center which means Phoenix TS provides quality training in the CompTIA certification courses. The CySA+ certification course at Phoenix TS will give you the knowledge needed to feel confident to pass the exam. The course provides training in each of the knowledge areas represented on the exam. This 5 – day instructor led training, will lead participants through the outline below:
Module 1: Understanding Threats
Module 2: Policy design
Module 3: Vulnerability Management
Module 4: Recognizing vulnerabilities
Module 5: Network Threats
Module 6: Reconnaissance
Module 7: Network Security systems
Module 8: Network Defense techniques
Module 9: Secure Infrastructure management
Module 10: Secure System design
Module 11: Incident response
Participants will also gain hands on experience with additional tools provided by Phoenix TS. These tools include:
CySA Certification training book
Practice Exams
Pre and Post Assessments
Exam scheduling
Exam voucher with second chance voucher included
Certificate of completion for up to 40 CEUs/CPEs to be used toward renewing relevant certifications
CySA+ Certification Training course retake guarantee
Participants can also gain relevant experience by enrolling in the Network + and Security + certification trainings offered at Phoenix TS. Phoenix TS also offers training for certifications that you can attain after earning your CySA+ such as the Pentest + training.
To learn more information or enroll in a CySA+ course, visit https://phoenixts.com/training-courses/comptia-cybersecurity-analyst-training/ or call 240-667-7757.
References:
Blackwell, J. (2020, April 29). The New CompTIA Cybersecurity Analyst (CySA ): Your Questions
Answered. Retrieved September 30, 2020, from
https://www.comptia.org/blog/the-new-comptia-cybersecurity-analyst-your-questions-answered.
Corey, T. (n.d.). Is the CompTIA CySA Worth It? Cost, Comparison, Benefits. Retrieved October 7, 2020,
from https://startacybercareer.com/is-the-comptia-cysa-worth-it-cost-comparison-benefits/
McKenzie, C. (n.d.). CySA Jobs Outlook. Retrieved October 4, 2020, from
https://resources.infosecinstitute.com/category/certifications-training/cysa-plus/cysa-plus-salary-and-job-data/cysa-plus-job-outlook/#gref
Personnel Certification Bodies. (n.d.). Retrieved October 4, 2020, from https://www.iasonline.org/
Why Should I get CompTIA CySA Certified? (n.d.). Retrieved September 30, 2020, from https://www.comptia.org/faq/cysa/why-should-i-get-comptia-cysa-certified
The post What's the 411 with the updated CySA+? appeared first on Phoenix TS.
Recent Articles By Author
*** This is a Security Bloggers Network syndicated blog from Blog – Phoenix TS authored by pts-alex. Read the original post at: https://phoenixts.com/blog/whats-the-411-with-the-updated-cysa/