6 Slides Every CISO Should Use in Their Board Presentation
The end of the quarter is fast approaching and it's time to put together your slide deck for the board meeting. Before you begin creating bulleted slides for all the projects your team is working on, take a moment to zoom out. What do your board of directors and C-suite colleagues really want to know?
Most executive leaders have 3 main questions about cybersecurity:
Where are we?
Where do we want to be?
How will we get there?
Answering these questions succinctly is no easy feat, so using a concise and simple powerpoint to guide your presentation is important. These 6 slides are key to answering the most important questions about cybersecurity and getting buy-in from stakeholders for your new and ongoing projects. You can learn more about the important elements of each slide below or download an actual powerpoint template of these and other cybersecurity slides.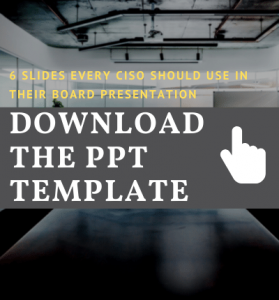 1.  Level the conversation
Set expectations for your board and overview the conversation. The goal of the next 15 – 20 minutes will be to establish where their enterprise is on cyber risk, where it should be, and how it will get there.
2. Quantify the cyber risk spectrum
Provide a bar chart with breach likelihood for every high-impact group of assets. Use this to quantify where the company currently is on the cyber risk spectrum
3. Put numbers to risk
Quantify your cyber risk in dollar figures. Support this number with your current breach likelihood and financial impact.
4. Tackle breach likelihood
Share how many assets are at high likelihood of breach and how many are at medium likelihood. Summarize the security issues and current threats that are affecting breach likelihood.
5. Show progress with risk trends
Give a high-level summary with visualizations showing how risk levels have changed since your last meeting. Point out specific areas of risk that have decreased or increased and support with data.
6. Lay out a plan
Present your prioritized list of projects and deployments for the next quarter. Show the impact that each will have on decreasing breach likelihood and overall risk.
Automating your board-level presentations
Balbix automates risk, likelihood, and impact scores for every area of your business and provides intuitive visualizations for your presentations to the board and C-suite colleagues. It also provides risk trends and prioritized fixes to help you understand how you're progressing on cyber risk and determine a clear action plan for improving your security posture. With Balbix, the board presentation that would've taken weeks to complete can be completed in minutes. Request a demo to learn more.
Recent Articles By Author
*** This is a Security Bloggers Network syndicated blog from Blog – Balbix authored by Nate Bradford. Read the original post at: https://www.balbix.com/blog/6-slides-every-ciso-should-use-in-their-board-presentation/