20 Ransomware Statistics You're Powerless to Resist Reading
Ransomware attacks are on the rise — and they're estimated to cost global organizations $20 billion by 2021, according to Cybersecurity Ventures
Let's kick off our ransomware statistics list with a single
number: $377,000.
That number represents the average initial ransom demand in Ryuk ransomware attacks in Q3 2019, Coveware reports in their "Q3 Ransomware Marketplace report." And Ryuk is just one of the latest types of ransomware in the wild — there are many others that are known and are yet to be discovered.
Unfortunately, ransomware attacks are nothing new or unique to 2020. In fact, KnowBe4 reports that the first known ransomware virus was created in 1989! While the frequency of ransomware attacks has fluctuated over the years, recent ransomware statistics show that such attacks rose significantly in frequency in 2019.
But what exactly do ransomware attacks entail? These types
of cyberattacks occur when cybercriminals use malware to block companies and
individuals from accessing their files, databases, and other computer systems
until they pay a ransom demand. And without having proper defense mechanisms
and response plans in place, ransomware attacks can cripple all types of organizations
— everything from small businesses to major municipalities alike.
So, if you're wondering what some of the top ransomware
statistics are that you should know in 2020, we won't leave you in suspense any
longer…
Let's hash it out.
Ransomware Statistics You Should Know in 2020 and Beyond
As you know, we like reporting on all types of cybercrime
and cybersecurity
statistics here at Hashed Out. That's why we've put together a list with
some of the top ransomware stats to know in 2020 and beyond. We'll periodically
update this list throughout the year to ensure that this information remains
fresh and up to date for your reference.
In this article, we'll break up these ransomware statistics
into a few smaller sub-lists relating to costs, frequency or occurrences, and
stats relating to the types of victims targeted.
Ransomware Statistics: The Costs of Ransomware Attacks
The "costs" associated with any ransomware attack are hard
to quantify because you have a variety of direct and indirect costs. For
example, some people look at the direct costs in terms of the ransom demands
(if victims choose to pay them) and remediation costs, while others look at the
more indirect costs — downtime, data recovery, lost revenue, improvements to
cyber defenses, and reputational damage.
However, all of these costs are valid and should be
considered. Here are some of the top ransomware stats relating to costs:
1. Ransomware Costs Forecast to Reach $20 Billion by 2021
The cost of ransomware is on the rise, and Cybersecurity Ventures estimates that the global costs will reach $20 billion by next year. This is an increase from their estimated damages of $11.5 billion in 2019 and $8 billion in 2018.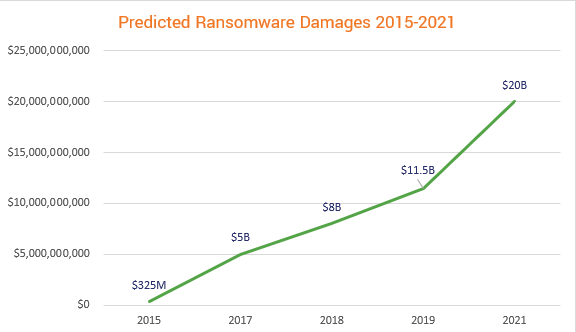 2. Cost of Ransomware Attacks Surpasses $7.5 Billion in
2019
Emsisoft reports that government agencies, healthcare providers, and educational institutions in the U.S. were impacted by ransomware attacks at a cost of more than $7.5 billion in 2019 alone. This estimate is based on the estimated average cost of ransomware incidents ($8.1 million) and the number of days it takes to recover (287), according to a statement made by Winnebago County's CIO Gus Gentner.
3. The Average Ransom Payment Amount Increased by 104% in
Q4 2019
In the last quarter of 2019, the average ransomware demand amount increased to $84,116, according to Coveware. The company reports that the highest-reported ransom payment was $780,000 for a large enterprise.
4. Downtime Costs Are Up 200% Year-Over-Year
Datto's "Global State of the Channel Ransomware Report" indicates that downtime increased by 200% year over year, and that such costs are "23X greater than the average ransom requested in 2019."
5. A Ransomware Attack Costs Oil and Gas Company $30
Million
More than $30 million was lost in a ransomware attack that targeted an unnamed "U.S. oil and natural gas company," Trend Micro reports in "Drilling Deep: A Look at Cyberattacks on the Oil and Gas Industry." The computers that were targeted in the attack contained a variety of sensitive and essential data. Trend Micro warns that the oil and gas industry is becoming more at risk of ransomware attacks.
6. Ransomware Attacks Cost U.S. Healthcare Organizations
$157 Million Since 2016
Comparitech reports that 172 individual ransomware attacks (affecting at least 500 people) targeted 1,446 clinics, hospitals, and other healthcare organizations since 2016 at a cost of $157 million. The total ransoms demanded were nearly $16.5 million with individual ransom amounts varying from $1,600 to $14 million per attack.
Ransomware Statistics: Frequency and Objectives of Ransomware Attacks
Although ransomware isn't necessarily one of the most common types of malware, it still has significant impact to the affected organizations and the individuals they serve. As far as ransomware statistics go, Statista reports that surveyed managed service providers (MSPs) identified spam and phishing emails (67%) as the leading causes of ransomware infections. This ransomware stat was followed by a lack of cyber security awareness training (36%) and weak passwords and access management (30%).
7. Ransomware Detections Skyrocket 543% and 820% in
2019
Malwarebytes reports in its "2020 State of Malware Report" that "Ryuk detections increased by 543 percent over Q4 2018, and since its introduction in May 2019, detections of Sodinokibi have increased by 820 percent."
8. More than 68,000 New Ransomware Trojans for Mobile Detected
Last Year
Kaspersky Labs reports that their mobile products and
technologies detected 68,362 new mobile installation packages for ransomware
trojans in 2019. This is a slight increase (8,186) over the previous year.
However, the generation of new ransomware packages started out heavy in Q1 2019
(27,928) but decreased from quarter to quarter as the year progressed.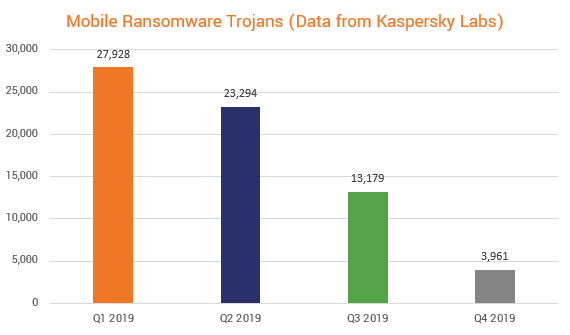 9. Ransomware Attacks Increased 41% in 2019
Relying on data from Emsisoft, The New York Times reported that the number of ransomware attacks reported in 2019 was an increase of 41% over the previous year. The data also indicates that 205,280 enterprises lost access to their files due to such attacks.
10. Nearly 1,000 U.S. Organizations Impacted by
Ransomware Attacks in 2019
The same report from Emsisoft indicates that the onslaught
of ransomware attacks last year "impacted at least 966 government agencies,
educational establishments and healthcare providers" — the majority of which
(764) were healthcare providers.
11. Ransomware Attacks Forecast to Occur Every 11 Seconds
In their report on global ransomware damage costs, Cybersecurity
Ventures predicts that ransomware attacks will target businesses every 11
seconds. This estimate is a 21% increase from the previous forecast of every 14
seconds that was estimated by the end of 2019.
12. Business Disruption Is the Main Objective in 36% of
Cyberattacks
Ransomware, DDoS attacks, and destructive malware were the leading causes of business disruption in cyber attacks CrowdStrike investigated and reported in their "CrowdStrike Services Cyber Front Lines Report" for 2020.
13. Healthcare Ransomware Attacks Affected 6.6 Million Patients, Canceled Appointments
The previously mentioned research from Comparitech indicates
that 6,649,713 patients were affected by ransomware attacks since 2016. The
various attacks, which caused downtime that lasted anywhere from a few hours to
weeks or even months, resulted in patient non-treatment and appointment
cancellations.
Ransomware Statistics: Victims of Ransomware Attacks
While ransomware attacks against consumer groups has
declined over the past year, ransomware attacks against organizations remains
higher than ever thanks to the growing prevalence of malware families like Phobos,
Ryuk, and Sodinokibi in the wild.
Here are some other interesting ransomware statistics
relating to intended victims and targets: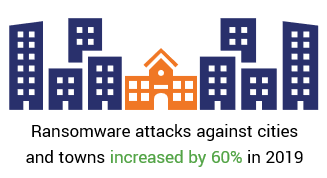 14. Ransomware Attacks Against Municipalities Increased
60% in 2019
Kaspersky Labs reports that there were 174 ransomware attacks against cities and towns in 2019. This is an increase of about 60% over the previous year.
15. Schools Are the Targets of 61% of Ransomware Attacks
Educational organizations were the biggest target of ransomware
attacks in 2019, claiming about 61% of reported attacks, according to the
aforementioned Kaspersky Labs report. More than 105 school districts, which include
around 530 schools, found themselves in the sights of cybercriminals.
16. 226 U.S. City Mayors Make a Pact to Deny Ransom
Payments to Cybercriminals
At the 87th annual U.S. Conference of Mayors, 226 mayors from cities in 40 states (plus Puerto Rico) voted together to deny cybercriminals payments in ransomware attacks.
17. 20% of Ransomware Victims Are SMBs
The results of a survey from Datto's Global State of the
Channel Ransomware Report indicates that one in five ransomware attack victims
were small and midsize businesses in 2019.
18. 85% of MSPs Report Ransomware as a Common Threat to
SMBs
Results from a survey in the same Datto report also indicates that 85% of managed service providers report ransomware attacks as the most common malware threat to small to mid-size businesses (SMBs). However, their clients aren't cybercriminals' only targets — about 80% of surveyed MSPs report that their own businesses are increasingly targeted by such attacks.
19. 645 Employees: Average Size of Ransomware Victims in
Q3 2019
Data from Coveware's Q3 Ransomware Marketplace report
indicates that the average organization targeted by ransomware attacks had 645
employees. This is a decrease of more than 30% from the average organization size
of 925 employees that was reported in Q2 2019.
20. 15% of Ransomware Victims Decided to Pay Up
Data from a Dark Reading survey indicates that nearly four times as many businesses with 100 or more employees that suffered ransomware attacks reported paying the ransoms. This is an increase from 4% in 2018 to 15% in 2019. However, the FBI and other industry experts estimate that the number of reported ransomware attacks is far lower than the number that actually occur due to a lack of reporting.
TL;DR
Okay, so you're obviously in a hurry if you've skipped right
to this section. As such, we've put together a brief highlights list of the top
five ransomware stats to note from the list above:
Cybersecurity Ventures forecasts that ransomware
costs will reach $20 billion by 2021
Research from Datto indicates that year-over-year
ransomware downtime costs are up 200%
Malwarebytes reports that detections of the Ryuk
ransomware were up 543% in Q4 2019
Emsisoft's data indicates that ransomware
attacks increased by 41% in 2019
Datto also reports that 20% of ransomware
victims were SMBs in 2019
As always, feel free to leave a comment and share your most notable ransomware statistics below…
Recent Articles By Author
*** This is a Security Bloggers Network syndicated blog from Hashed Out by The SSL Store™ authored by Casey Crane. Read the original post at: https://www.thesslstore.com/blog/ransomware-statistics/