Q&A With Top Secret Exhibit Curator | Avast
One of the most interesting historical views of cybersecurity in 2020 was on display at London's Science Museum in the exhibit TOP SECRET: From Cyphers To Cybersecurity, which marked the 100th birthday of the Government Communications Headquarters (GCHQ), the United Kingdom's intelligence and security organisation. World War II coding machines, secure Cold War telephones, and machines infected with historic cybersecurity threats are among the more than 100 artifacts on display. The person tasked with pulling the exhibit together was Elizabeth Bruton (pictured), curator of technology and engineering at the Science Museum, who told The Irish Times, "We have objects on display that have never been seen before; they've been declassified for our exhibition." 
The Avast Blog caught up with her for this Q&A about assembling the exhibit. 
Avast Blog: In TOP SECRET you pulled together historic espionage artifacts with contemporary cybersecurity items. What do they have in common? Why do people need to understand both of those worlds?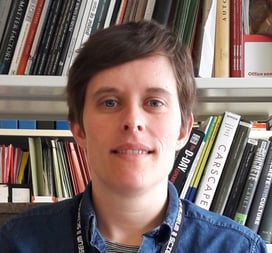 Elizabeth Bruton: The exhibition explores over a century of codes, ciphers, and secret communications from the First World War to the present day, through the lens of the centenary of GCHQ. For as long as people have been communicating, they have wanted to conceal or keep secret and secure their own messages while revealing the messages of others. This is a central theme that runs through our exhibition, from rare historic cipher systems on loan from GCHQ and on display in Top Secret for the first and possibly the last time through to cutting-edge cybersecurity objects, also on display in our exhibition.
I think it is helpful for visitors to Top Secret to engage with the rich personal and technological stories that have underpinned secret and secure communications over the course of a century, from spycraft used by the Portland Ring in Cold War Britain through to today's Internet of Things (IoT) smart devices many of us have in our homes. These stories help us better understand and engage with the importance of secure communications, today and in the past, and the role all of us play today in keeping our communications and devices secure.
Avast Blog: Cybersecurity was fought in secrecy in World War II. The head of the GCHQ said. "It is no longer enough for us to serve in secret… We are aiming to put tailored advice in the hands of every citizen." Is it important for public utilities like museums to promote and explain security?
Elizabeth Bruton: Cybersecurity per se was not fought in the Second World War – this term is a late 20th century/early 21st century term. But a war of communications intelligence does indeed date back to the Second World War and before.
For most of the time period covered by the Top Secret exhibition, communications intelligence took place in complete secrecy. The work of governments, military forces, intelligence agencies, and others in this area were hidden away, often bound to secrecy through the Official Secrets Act. For example, the codebreaking work at Bletchley Park was kept completely secret until the early 1970s with the publication of F. W. Winterbotham's "The Ultra Secret" in 1974. But this cloak-and-dagger world of mostly military and government agencies working in complete secrecy is not the world we live in today and something we've emphasised in the Top Secret exhibition, where the look, feel, and design of the exhibition changes between the historic and contemporary section.
Today, technology has transformed how we communicate. From texting and emailing to messaging services such as WhatsApp and social media such as Instagram and Snapchat, we communicate more often and more quickly than ever before. Nowadays we even have smart devices that can communicate with each other. This new digital landscape brings risks as well as opportunities.
We give up personal information when we search, chat, date, and shop. Information that would once have been private is now collected and stored in vast data sets. This is powerful "intelligence" for anyone who can access it.
As such, we all have a role to play in keeping our data and, where applicable, other people's data and devices secure. Thus, it is important for places like the Science Museum to educate people on the importance of cybersecurity, and our Top Secret exhibition is very much part of this.
Avast Blog: How can museums – which were once entirely analog – explain the virtual world of modern cloak-and-dagger hacking?
Elizabeth Bruton: Our Top Secret exhibition uses a mixture of rich personal and technological stories and objects accompanied by animations created by our 2D designers HATO to explain the importance of cybersecurity and how public key encryption underpins much of the security of our devices and communication today.
---
Top Secret is a free exhibition at the Science Museum running until 23 February 2020. You can book free tickets here.
Recent Articles By Author
*** This is a Security Bloggers Network syndicated blog from Blog | Avast EN authored by Avast Blog. Read the original post at: https://blog.avast.com/qa-with-top-secret-exhibit-curator