StackRox + PagerDuty – Know about Your Kubernetes Security Issues, Now
StackRox has pioneered Kubernetes-native container security, bringing rich context and infrastructure-native enforcement to protecting Kubernetes and containers across build, deploy, and runtime. We recognize the importance of getting critical alerts about this cloud-native stack to the right team, at the right moment – by integrating with PagerDuty, we broadened the choices on how to do so.
To effectively protect the cloud-native stack, DevOps and security teams must be able to operationalize the security technologies designed to protect this new infrastructure. That success depends on integrating new security tooling with existing DevOps infrastructure and workflows. Such integrations are at the heart of the StackRox Kubernetes Security Platform. Integration with PagerDuty is just the latest example of how StackRox works to make container security more effective and efficient.
With this integration, joint customers now get alerts about the critical Kubernetes and container security policy violations the StackRox platform detects. Customers determine which policy violations should get directed into PagerDuty, and teams can define how these alerts funnel into the escalation policies instantiated on the PagerDuty platform.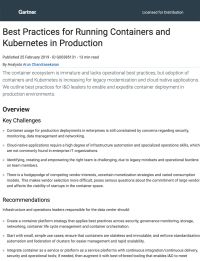 Best Practices for Running Containers and Kubernetes in Production
Learn about Gartner's recommendations for securing your containers and Kubernetes before and during runtime.
We've taken a Kubernetes-native approach to protecting the cloud-native stack, leveraging the controls built into Kubernetes. Our PagerDuty integration enables a similar approach to security alerts, enabling customers to leverage the incident response platform and workflows already in place to support handling of Kubernetes and container security incidents. Our integration with PagerDuty adds to other integrations we provide into CI/CD systems, registries, vulnerability managers, incident management platforms, and other DevOps platforms.
Check out the other system integrations StackRox supports, and you can also sign up for a personalized StackRox demo.
About PagerDuty
In an always-on world, teams trust PagerDuty to help them deliver a perfect digital experience to their customers, every time. PagerDuty is the central nervous system for a company's digital operations. We identify issues and opportunities in real time and bring together the right people to respond to problems faster and prevent them in the future. From digital disruptors to Fortune 500 companies, over 12,000 businesses rely on PagerDuty to help them continually improve their digital operations—so their teams can spend less time reacting to incidents and more time building for the future.
---
Recent Articles By Author
*** This is a Security Bloggers Network syndicated blog from The Container Security Blog on StackRox authored by The Container Security Blog on StackRox. Read the original post at: https://www.stackrox.com/post/2019/11/stackrox-pagerduty-know-about-your-kubernetes-security-issues-now/