How Your Smartphone Tracks Your Movement | Avast
Whether we know it or not, every move we make is being tracked by smartphones and apps. And the data collected can reveal a lot: where we live, where we go, what we do, who we know, how we communicate, and our personal habits.
Here's how your smartphone keeps track of your activities on an average day:
6AM: Rise and shine! Your smartphone alarm chimes. The morning has begun, and so has the tracking. You check the weather, scan the headlines, and browse Instagram. With your phone connected to Wi-Fi, you get localized search content delivered to your screen.
7AM: You made it to the gym on the bus. Your favorite fitness app calculates your steps, speed, cadence, distance, and calories burned on the treadmill. Other features allow you to also track your food intake and lifestyle traits such as weight and sleep time.
8:30AM: You hail a car-sharing ride to work, which gives the driver and other passengers your work address and when you arrive.
9:02AM: To use the office building elevator, you scan a barcode saved on your digital wallet and press the button for the 12th floor. As a security precaution, your company has done away with badges and requested that all employees download their newly developed app, which notes when you've entered and exited the premises.
12:45PM: You're hangry – hungry and angry. For lunch you head to the deli shop, where you use Apple Pay, which logs your sandwich purchase and the locations of frequented restaurants. You check in with Yelp for a cookie!
1:50PM: Before heading back to work, you stop at Target to grab a few items. The Target app, which you recently downloaded, pings you with coupons the moment you enter the store.
4:30PM: Your co-worker's phone battery ran out. She asks to use your phone for turn-by-turn navigation to a client meeting. This map app, which mixes historical and real-time traffic data, has been reliable in avoiding traffic jams. It's like it knows you.
6PM: Your clients take you out for dinner and drinks. One of them takes a group photo, tags everyone (along with the restaurant's location) on Facebook and shares it online. Food-related ads appear on your newsfeed.
8:45PM: Spotify helps you unwind for the night. You haven't upgraded to Spotify Premium, so you hear an ad for a local festival. Coincidence?
10PM: The "white noise" app that helps you sleep automatically picks up your time zone and uses your pre-set alarm to stop when you wake up tomorrow.
2AM: The smart camera on your porch picks up movement in your driveway and registers it to your account. Raccoons in your garbage again.
More than 2.5 billion people around the world own a smartphone. Some 1,400 popular apps track locations of users, sometimes as precisely as down to a few yards away and as frequently as thousands of times a day.
We use apps for many useful reasons. Location data provides a personal experience when we want additional information about our surroundings, whether to find the highest-rated restaurant, learn the week's local weather, or even find prospective partners who happen to be nearby.   Parents use location data to make sure their children are safe and where they expect them to be, whether at school, after-school lessons and activities, or at home.
Data gathered from our smartphones and apps is valuable to companies for advertising and customer-acquisition purposes. Where we go, what we do, and how we go about our business can offer rich socio-economic and demographic insights, which can be leveraged for highly targeted marketing opportunities. At a macro level, data from location apps can help business owners, civic leaders, regional planners, and government officials make informed decisions that could enhance our daily lives.
But when coupled with other identifiable markers, location data can fully expose our personal choices – details about our home life, health, work, relationships, and potentially embarrassing activities.
Interestingly enough, you don't have to check in on Facebook or give apps permission to track your location. They can just do it on their own.
How your smartphone and apps track location
Before the advent of GPS and 4G technology, there was triangulation, which can pinpoint the location of a mobile device by assessing how far away it is from three or more cell towers in relation to a fixed location. This is the old-school way.
Now smartphones are equipped with Wi-Fi and a GPS (or Global Positioning System) chip. They work by detecting the position and signal from a series of around 30 satellites set up by the U.S. military. But being in a location without a clear view of the sky makes it difficult for the antenna in your smartphone to track your location via GPS.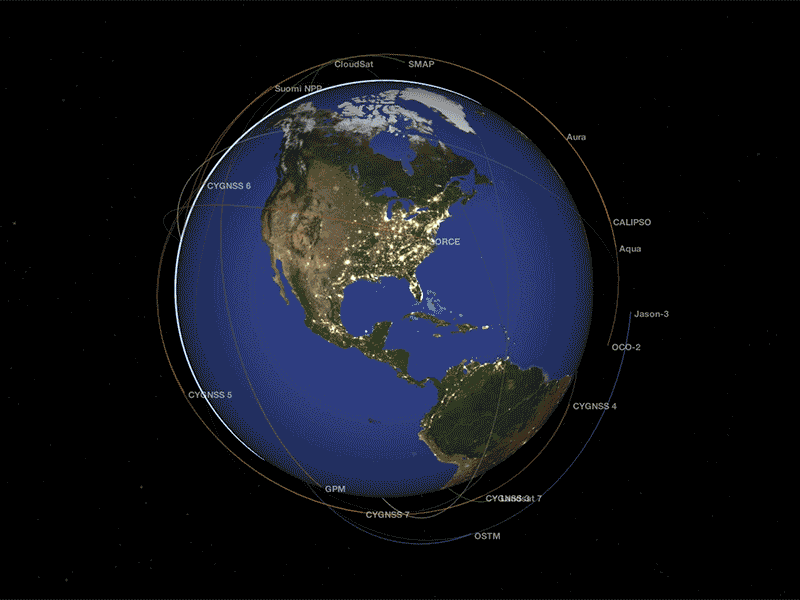 NASA GIF 
That's where Wi-Fi devices come into play. Since smartphones now have a built-in Wi-Fi chip, it's constantly seeking Wi-Fi access points (such as home routers, beacons, or municipal Wi-Fi networks) and publicly broadcasting data (like the smartphone's SSID and MAC) back to them.
Thanks to this technology trio, your smartphone can obtain an accurate fix on your location and make location-based apps and services that much more helpful. They create a baseline of your geolocation data and paint a more complete digital profile of you with every move you make. NASA is working to stretch the limits of GPS with new satellites and experiments.
How and why marketers use your geolocation data
Many people are willing to trade their privacy if they believe an app's benefits outweigh its risks. Most of us continue to use location tracking apps for convenience and safety.
Location features can prioritize results that are closest to us, simplifying our decision-making. For instance, do we prefer a 5-star hotel that's far from our destination or 3-star hotel with free breakfast that's close to all attractions? Patronizing our favorite stores and checking in can also bring rewards. Why go to three different stores when you can be rewarded with store credit, coupons, or giveaways by frequently buying from one? Location-based apps can also bring parents peace-of-mind by providing the exact location of their family members in real-time.
Each dataset has a geolocation component to it, which can be used by marketers to craft and deliver highly targeted ads and mobile experiences. If you've opted in for retailer coupons, marketers can push promotional messages via SMS or their native app when you enter a geo-fenced area (a predetermined virtual perimeter, like the entrance to a Starbucks, that triggers an alert/notification if you pass it).
If a retailer wants to open a new storefront, it could use the foot traffic patterns of its app users and cross-reference it with info purchased from a data brokerage firm.
Unfortunately, as with any sensitive data, location service data can be abused by third parties. Privacy advocates and legislative bodies have pushed not only for better storage of location data, but also to reduce the size of data stored on smartphones, to limit the frequency of apps and devices pinging for a location, and to encrypt location data across mobile devices.
While it's not currently possible to fully disable location tracking on your smartphone, there are ways to limit it.
How to stop your phone from giving away its location:
Turn off location services: You can either turn Location Services off completely or just for select apps. Most apps don't require your location to function. Look under Settings > Privacy on both Android and iPhone devices.
Use a VPN: A virtual private network creates a private tunnel between your smartphone and the internet, which encrypts your traffic and web activity from snoops and hackers.
Ask to connect: Ensure that your phone requests to join a network whenever it is detected, rather than automatically connecting to the strongest open network. Go to Settings > WiFi > toggle Ask to Join Networks on.
Uninstall apps you rarely use or have forgotten about: Since app developers continuously update their apps to patch potential security flaws, users who haven't used an app in months are unlikely to install necessary updates. Delete apps you haven't used in 6 months or have long-forgotten.
Recent Articles By Author
*** This is a Security Bloggers Network syndicated blog from Blog | Avast EN authored by Avast Blog. Read the original post at: https://blog.avast.com/a-day-in-the-life-of-your-smartphone