Using SaaS Backup and Recovery to Protect Your Data With a Virtual Air Gap
Organizations find themselves in a quandary these days when it comes to whether they should deploy an air-gap strategy—a strategy in which secondary backup data is saved in an offsite and offline location, physically separating it from primary production data—to better protect their secondary data.
On the one hand, the growing threat posed by cyberattacks makes it crucial for organizations to have an air-gapped copy of their data that they can use to recover any primary data that has been encrypted or deleted by a cyberattack. On the other hand, offsite tape storage, the traditional technology used for creating an air-gapped backup, is expensive, has slow recovery times and scales poorly, making it difficult for organizations to implement an air-gap strategy in today's digital economy. Rather than using off-site tape storage, some large organizations maintain or pay for hosted data centers to air-gap their backups. But while this approach provides faster recovery times than tape, it is much more expensive in terms of both direct expenses and administration costs.
Fortunately, new software-as-a-service (SaaS)-based backup and recovery solutions offer a way for organizations to create a "virtual" air gap between their primary and secondary data, without the cost, time, scalability and other issues associated with tape storage. By deploying a robust SaaS backup and recovery solution that includes encryption of data while it is in transit and at rest, anomaly detection and other enterprise-grade data protection capabilities, organizations can realize the benefits of establishing an air gap between their primary and secondary data while increasing their recovery speeds, improving their backup scalability and reducing their backup costs.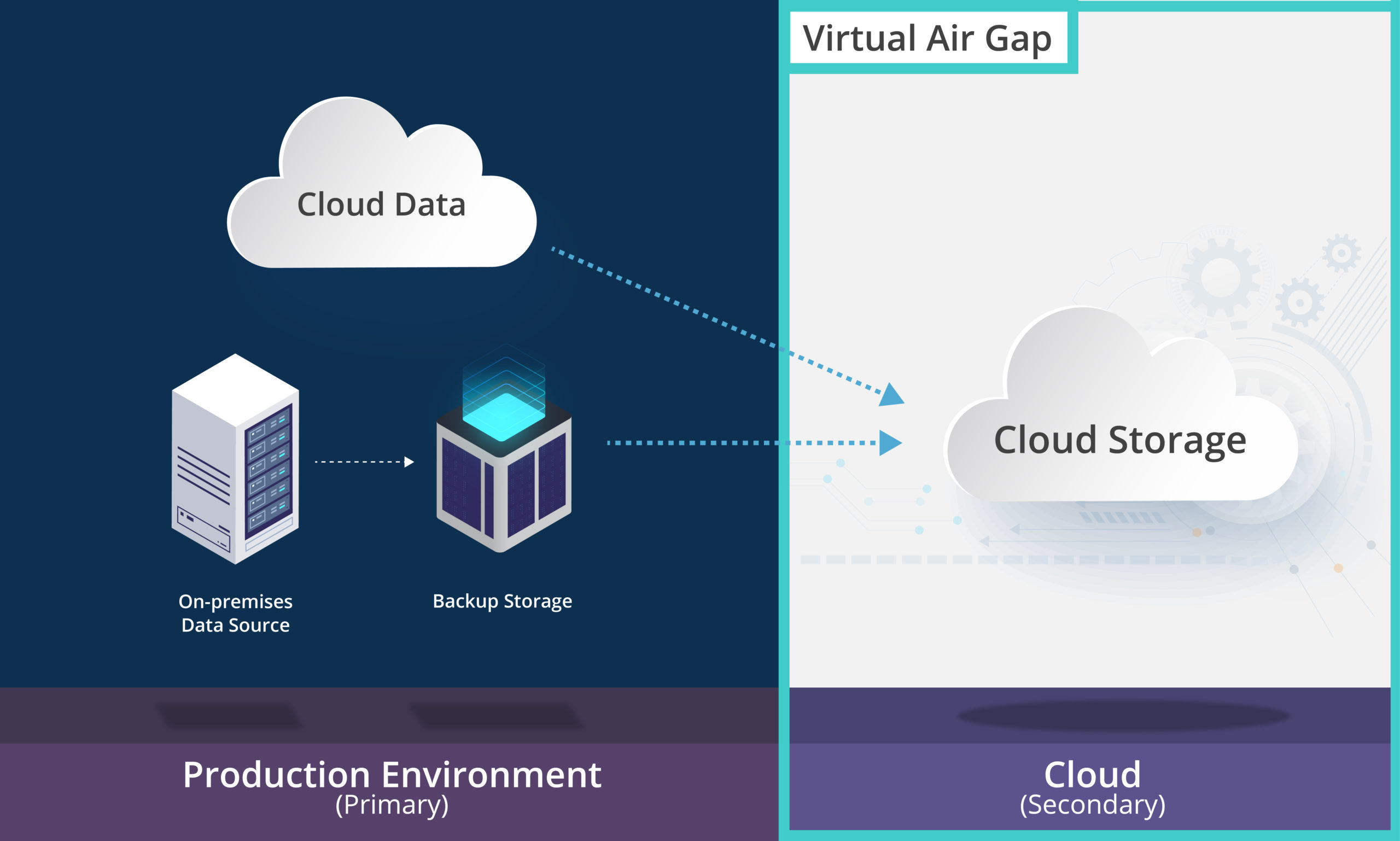 The Need for Air-Gapped Backup
The threat of a ransomware or other cyberattack from malicious hackers or nation-states has been one of the key reasons why organizations have created air-gapped backup copies of their data for years—and this threat only continues to grow. In February, the New York Times reported that ransomware attacks in 2019 increased by 41% from the year prior. Meanwhile, in April, the European Union Agency for Law Enforcement Cooperation (Europol), issued a report that stated that, following the pandemic, "some [cybercriminals] are believed to have intensified their activities."
As organizations find that they are increasingly faced not with the question of if a successful cyberattack will lock or destroy some of their primary data but when, the need to implement an air-gap strategy has become more urgent. In fact, the Cybersecurity and Infrastructure Security Agency (CISA), part of the U.S. Department of Homeland Security, emphasized the importance of creating air-gapped backups, advising: "Make sure your backups are stored in a location that's easily reached when needed, but which is air-gapped from the production network."
The Limitations of Air-Gapped Tape Backup
Yet, while the need for air-gapped backup is greater than ever, offsite tape backup is increasingly too inexpensive, too slow and not scalable enough for organizations trying to succeed in today's digital economy.
These organizations' data volumes are growing, often at an exponential rate. But tape storage is difficult to scale and can be expensive, especially as data volumes grow over time. Meanwhile, organizations need to be able to quickly recover their data after an attack if they do not want their increasingly digital operations to be significantly disrupted. Yet, organizations can't instantly retrieve a tape backup from an offsite location; they have to wait for it to be delivered to them. In addition, with tape the actual data recovery process can take a long time as it can be difficult to find the specific data that has been locked or destroyed or data that is more critical to the organization and needs to be restored as soon as possible.
SaaS: An Alternative for Air-Gapped Backup and Recovery
With the introduction of new SaaS backup and recovery solutions, organizations now have a fast, affordable, and scalable alternative to tape storage that still enables them to create an air gap between their primary and secondary data.
A SaaS backup's air gap is virtual, not physical, since the cloud where the backups are stored is not physically disconnected from the internet when a backup or recovery process is not in progress. However, this virtual air gap is very close to being as secure as a physical air gap. All access to the backup has to be made by an authorized user, and when backup or recovery processes are not occurring, the communication between the primary and secondary data is severed, so that the secondary backup data is completely separated from the customer's on-premises security domain. In addition, the fact that the SaaS backup is stored on a different type of media (the cloud) and uses a completely different set of APIs than on-premises storage further complicates cybercriminals' ability to access it.
Moreover, SaaS backup and recovery is a lot faster, less expensive and more scalable than air-gapped tape backup. When an organization needs to recover data, it can instantly connect to the cloud, find the specific data it needs to recover and restore it—there is no need to wait for a tape to be delivered from a remote vault somewhere, and then try to find the data on the tape that they want to recover first. SaaS storage in the cloud is also less expensive than paying a company to store tape in a secure offsite location, involves less management overhead (further lowering TCO) and is much easier to scale up or down as an organization's data protection changes.
In choosing a SaaS backup and recovery solution, organizations can gain further benefits from selecting a solution that includes enterprise-grade data protection capabilities. These include anomaly detection that can identify behaviors that indicate a malicious actor has attacked the primary data and is now trying to attack the backup. Other capabilities to look for in a SaaS backup and recovery solution include data encryption while data is in transit and at rest, two-factor authorization and ISO certification for the cloud data centers where the SaaS backups are stored.
Thanks to its ability to create a virtual air gap between primary and secondary data, SaaS backup and recovery solutions offer organizations a way to implement an air-gap strategy that helps them better protect their backups from cyberattacks while still providing them with the quick, affordable and scalable backup and recovery they need in today's digital economy. With SaaS backup and recovery, organizations now have another powerful weapon in their arsenal as they seek to protect their data from cyberattacks.