ISO 27001 vs. COBIT: A comparison
We often come across discussions related to comparisons of different governance standards and frameworks, such as ISO 27001 and COBIT. ISO 27001 focuses on information security controls, while on the other hand, COBIT, which is a governance framework, also includes some ISO 27001-related topics such as security, risks, managing changes, etc. in its domains. This article explains the similarities and differences between ISO 27001 and COBIT.
Basics
To begin with, what is ISO 27001 and what is COBIT?
ISO 27001 is an international standard for the establishment, implementation, maintenance, and continual improvement of an Information Security Management System. The standard is a joint effort by the International Organization for Standardization (ISO) and the International Electrotechnical Commission (IEC).
Control Objectives for Information and Related Technologies (COBIT) is an IT management framework developed by the Information Systems Audit and Control Association (ISACA). It is used for business development, organization, and implementation strategies around information management and governance.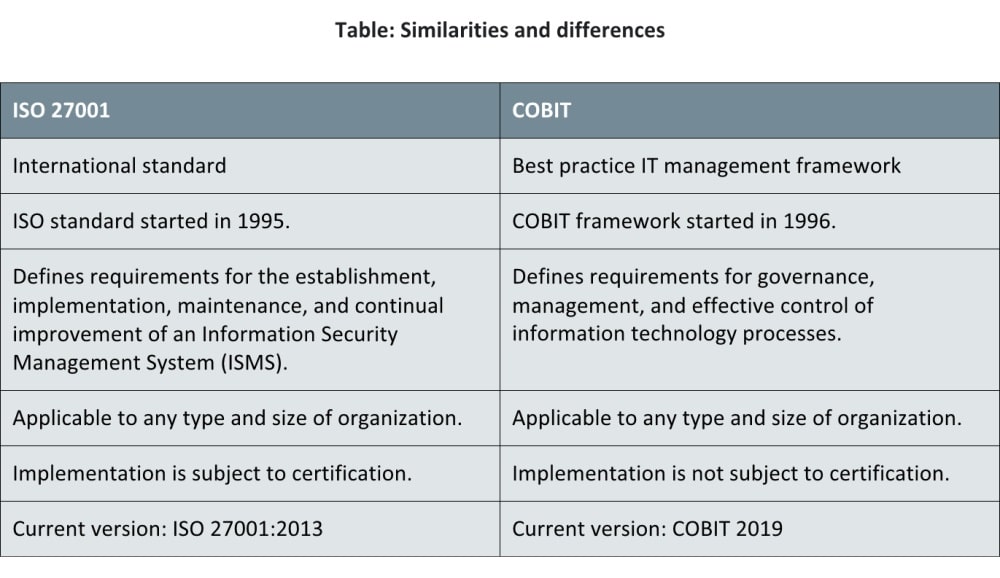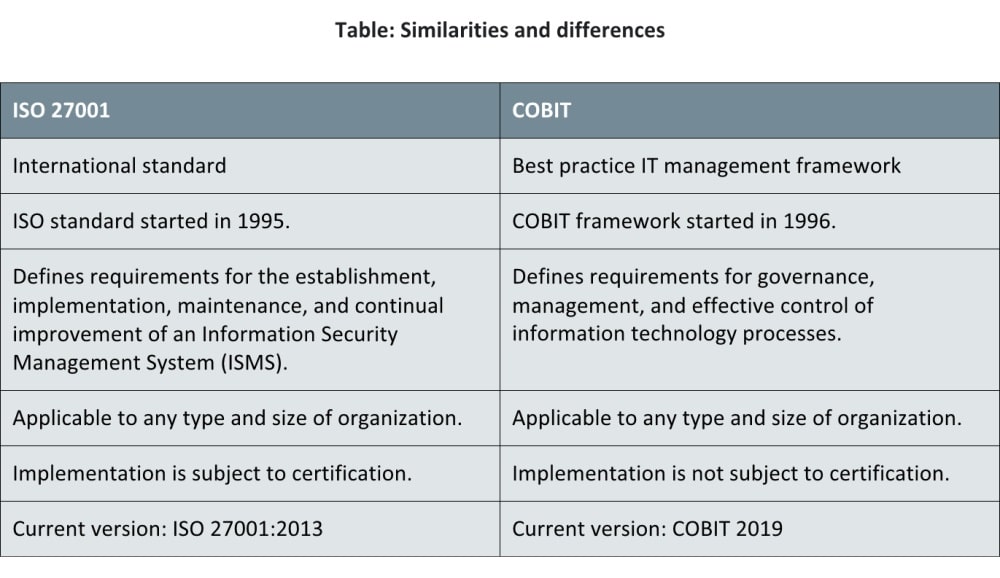 Certification
An individual can get certified for ISO 27001 by attending the course and passing an exam, for example, as a Lead Implementer or Lead Auditor.
However, ISO 27001 is primarily intended for the certification of companies – to learn more, read the article ISO 27001 certification for persons vs. organizations.
On the other hand, COBIT certification is possible only for individuals – an individual can get certified in COBIT 2019 Foundation or COBIT 2019 Design and Implementation. An organization cannot be certified against COBIT.
Key difference between COBIT and ISO 27001
The key difference between ISO 27001 and COBIT is that the first one is solely for the purpose of information security, and the second one is for management and governance of information technology business processes.
We can consider COBIT to be an umbrella or superset that focuses on management of information technology (IT) (Read more...)
*** This is a Security Bloggers Network syndicated blog from The ISO 27001 & ISO 22301 Blog – 27001Academy authored by The ISO 27001 & ISO 22301 Blog – 27001Academy. Read the original post at: https://advisera.com/27001academy/blog/2019/05/06/cobit-vs-iso-27001-how-much-do-they-differ/