Apple And Digital Identity | Avast
This week, Apple announced the availability of iOS version 14.5 for its smartphones and tablets. The release contains an update that is a major change in direction and support for digital privacy. If you are concerned about your privacy, you should take the time to do the update on your various devices.
Earlier this year, we wrote about issues with mobile messaging apps and the search for a replacement for WhatsApp to find a more privacy-preserving ecosystem. That post brought up the different data elements that each messaging vendor collects from its users and shares across its social and advertising networks.
The new iOS is partly in response to this, partly as a result of stronger data privacy laws in the EU and California and elsewhere, and partly as a result to greater privacy sensitivity of the public (I'll get to that latter issue in a moment). Apple CEO Tim Cook, in an interview earlier in April with the Toronto Star, believes people should be asked to give consent to modern advertising techniques. That's code for taking Facebook and others to task the want to track users' interests but not really divulge what their apps are really doing.
Prioritizing anti-tracking
In the newest version of iOS, one small step forward comes in the form of a small orange dot that will appear on your phone when your mic or camera is being used by an app. That is nice, although still not completely unhackable. It balances big steps backward, such as the recent data-stealing ToxicEye attacks on the messaging app Telegram.
Earlier iOS versions had the beginnings of this anti-tracking feature. If you go to Settings/Privacy/Tracking, you can turn off this tracking or selectively enable it for specific apps. When you install a new app, you will get a popup notification asking you about which tracking features you wish to grant the new app.
The new iOS 14.5 goes a step further and includes a major privacy feature that is part of the programming interfaces for all apps, called App Tracking Transparency. This requires apps to explicitly request permission before gathering user or device data. For some time, these permissions have been cataloged on the App Store as well. There will be updates to other Apple operating systems to extend these privacy protection interfaces soon, too. MacRumors has more details on the 14.5 changes, and says that "iOS 14.5 is more of a deadline than a feature update when it comes to Apple's new privacy rules, but it will mark the wide adoption of Apple's ‌iOS 14‌ anti-tracking functionality."
The rise of identity theft
One of the reasons why privacy has become a concern has to do with the rising tide of identity thefts. A FICO study found that nearly a quarter of US residents and 15% of Canadians surveyed thought it was likely their identities have been compromised in the past. This is in agreement with other surveys that show account takeovers increasing. Data from the US Federal Trade Commission show complaints increased by 45% from 2019 to 2020.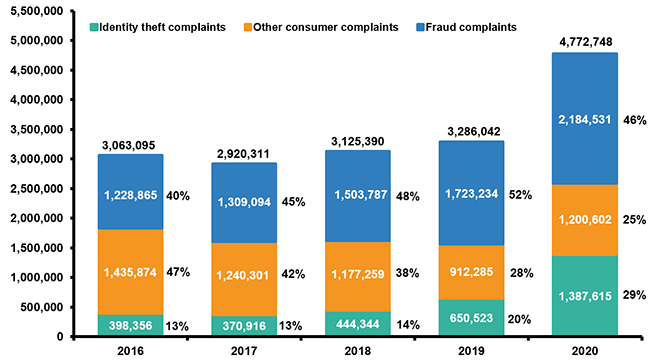 Image credit: Insurance Information Institute
So, the state of data privacy is improving, with better controls and more transparency over what each of your apps is doing (at least on Apple devices). But now comes the hard part: consumers have to learn how to manage these controls and understand what they are doing, as well as which apps deserve access to our personal data. As Forbes wrote earlier this year, "Now you know what's happening, it's up to you to choose whether apps can track you."
*** This is a Security Bloggers Network syndicated blog from Blog | Avast EN authored by Avast Blog. Read the original post at: https://blog.avast.com/apple-and-digital-identity-avast