The 2020 Cyberthreat Defense Report: Simplify Security with Unified Tools and Monitoring
The CyberEdge Group's recently released 2020 Cyberthreat Defense Report (CDR) details findings based on a survey of 1200 security IT professionals from around the globe.
Although multiple key takeaways emerged from analyzing their perceptions and insights, it's worth digging a little further into one in particular: The preference for unified security tools and monitoring. 
Eighty percent of security leaders agreed that managing the entire application security stack (DDoS protection, WAF, RASP, and API security) from one platform would reduce complexity and save time.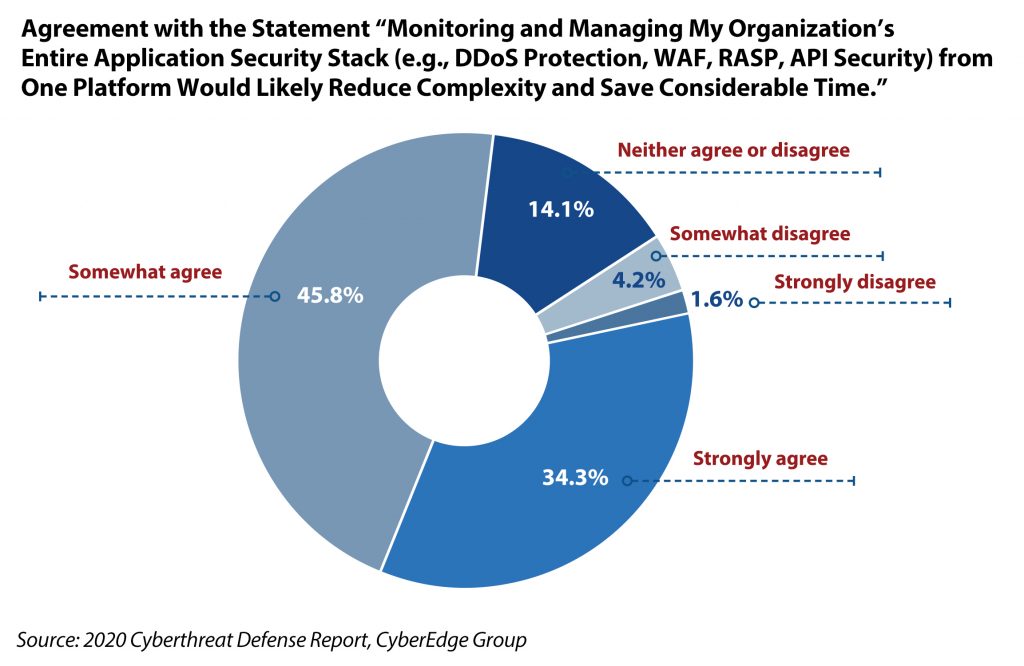 Here at Imperva, we offer just that.
Unified Security
Instead of having you rely on multiple endpoint solutions provided by different vendors, we provide the ability to mitigate security risk at the edge, application, and database.
In terms of application security, our Runtime Application Self-Protection (RASP) sits within the application itself in order to protect against known and zero-day vulnerabilities by default.
Meanwhile, components of our single stack cloud application security offer management simplicity where each part plays a role and shares intelligence among the consolidated layers of defense.
The cloud-based WAF operates alongside our DDoS scrubbing engines located at every point of presence (PoP) on our global network, as well as our advanced bot protection, API security, and integrated CDN and load balancing which streamline performance.
Monitoring
This comprehensive way to protect, accelerate and improve the reliability of your applications and infrastructure is enhanced by the consolidated visibility and automated security recommendations of Attack Analytics.
Our Attack Analytics spans across your cloud and on-premises or virtual appliance WAF Gateway, DDoS protection, and more, for time-saving, actionable insights that correlate alerts across your environment.
If you'd like to learn more about our security services and how we meet the challenges addressed in the report, join us for our upcoming webinar.
The post The 2020 Cyberthreat Defense Report: Simplify Security with Unified Tools and Monitoring appeared first on Blog.
Recent Articles By Author
*** This is a Security Bloggers Network syndicated blog from Blog authored by Kim Lambert. Read the original post at: https://www.imperva.com/blog/the-2020-cyberthreat-defense-report-simplify-security-with-unified-tools-and-monitoring/