Is the Betsy Ross Flag Racist?
I was really excited to watch this video until I clicked on play and a giant Betsy Ross flag showed up as the backdrop.
There are some places this American flag featuring a 13-star circle would seem appropriate.
For example, a display of all the flags in American history (updated 27 times so far), side by side. It would be a flag among American flags, symbolizing an unfortunate chapter in the past.
For another example, a history video discussing context around the flag, or in a museum about life in 1770s. Ample opportunity to explain how the flag came from a time long ago that nobody would want to go back towards because… slavery.
Either way, the flag isn't really supposed to speak for itself because it raises some important questions that shouldn't be left unanswered.
When used on its own with no context, just a substitution for the present American flag, it tends to beg whether someone is thinking "let's go backwards to white nationalism".
To be fair, Nazis and KKK wave the Betsy Ross with other flags. They tend not to rely on it alone signaling everything they want to say either.
For example, here's how the Betsy Ross shows up in various domestic terrorism recruitment fliers: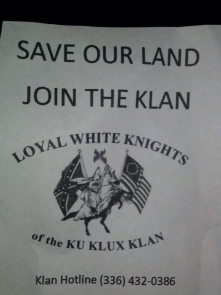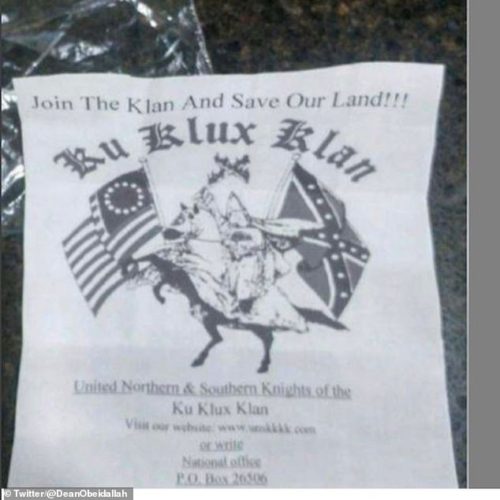 For what it's worth, the person who took credit for one of these campaigns was found dead after warning he was threatened by others in his group for "not being racist enough".
And here's how the Betsy Ross shows up in domestic terrorism meetups: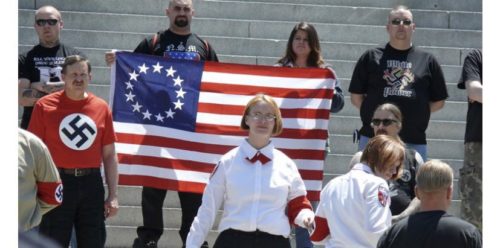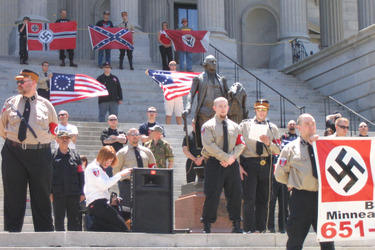 An entire video from 2007 shows how the Betsy Ross is appropriated, yet again isn't sufficient on its own.
There's an important point to be made here, which is that in 2007 Nazis were still very much attached to displaying the swastika and costuming to look like Hitler. It seems absurd today, but back then it was their thing to look absurd.
After 2016 the American Nazis were very much opposed to showing a swastika (they literally banned it themselves after arguing for decades against any bans). They realized they could just fly Trump flags instead.
Here's what their meetups look like now, and again a Betsy Ross isn't on its own: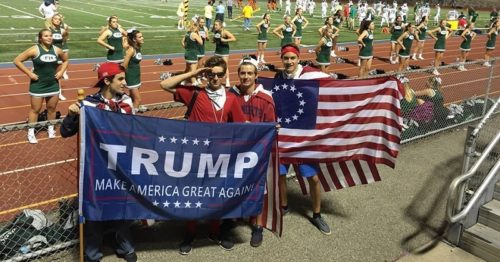 All that being said, the bottom line is that the Betsy Ross flag probably didn't come from Betsy Ross, and it absolutely did come from a time when America didn't consider Black people human and basically operated as a white police state.
It's like asking the question whether America is racist. And the answer is obviously yes.
In fact, the American Revolution almost certainly extended and expanded slavery far more than if Britain had maintained control of its colonies.
Britain, for example, was debating release of slaves in the late 1700s and freed them in the early 1800s. Yet during that same time in America violent white militias were killing anyone who even dared report on mistreatment of blacks or speak of abolition.
So if you're showing a Betsy Ross flag without some clear reason and some context to be displaying the militant symbol of a white police state, what are you even doing?
On its own it begs the important question whether you have a Confederate battle flag in your pocket, or a 14/88 tattoo somewhere.
I mean to put it another way, even Nazis and KKK add context whenever they fly it. The Betsy Ross amplifies their messaging even though it can't yet carry their tune on its own.
It's kind of obvious why hate groups like such a flag. When they fly it on its own it's like a subtle invitation to talk more about the benefits of white nationalism.
If America had always had one flag this would be an entirely different story, yet this flag is tied only to a particular time of systemic racism and oppression by whites.
*** This is a Security Bloggers Network syndicated blog from flyingpenguin authored by Davi Ottenheimer. Read the original post at: https://www.flyingpenguin.com/?p=33385