How Facebook Avoids Consequences for Crimes
Yet ANOTHER bone-head security screw-up at Facebook.
'The authors never intended to publish this as a final document to the whole company, a Facebook spokesperson said in a statement.
NEVER INTENDED.
Intended? Does it matter what they intended?
After this internal report went public (exposing how white nationalist violence was being facilitated) the Facebook decision to deny their internal staff access to the report is giant head-in-sand move.
And it also reminded me of a very old story.
That faulty "never intended" excuse is literally out of the origin story of Facebook when Zuckerberg was rightfully accused of gross privacy violations (exposing how white male abuse of minority women was being facilitated).
Comments on the e-mail lists of both Fuerza Latina and the Association of Harvard Black Women blasted the site.

"I heard from a friend and I was kind of outraged. I thought people should be aware," said Fuerza Latina President Leyla R. Bravo '05, who forwarded the link over her group's list-serve.

Zuckerberg said that he was aware of the shortcomings of his site, and that he had not intended it to be seen by such a large number of students.
HAD NOT INTENDED.
Intended? Does it matter what he intended?
Zuckerberg was aware of the problems and did it anyway because… didn't intend for his crimes to be seen by people who would hold him accountable.
It's like a full admission that he does crimes because he doesn't expect to get caught, and when he's caught he just says he didn't expect to get caught, and then moves on.
With that in mind, the Facebook internal report reveals that "Stop the Steal" was generating speech that was 30% hate and 40% violent insurrection, yet allegedly staff couldn't decide if that meant they should do something about it. Look at the percentages on the left versus the norms on the right.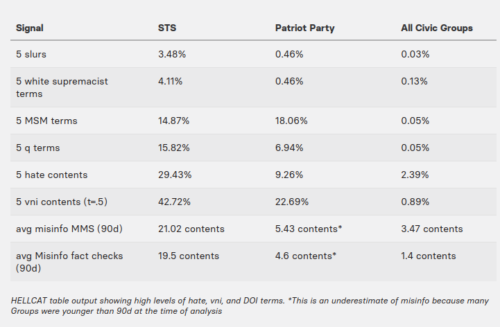 The platform graded their own response to imminent danger to democracy as lazy and piecemeal.
…very difficult to know whether what we were seeing was a coordinated effort to delegitimize the election, or whether it was protected free expression by users who were afraid and confused and deserved our empathy…
Coordinated or uncoordinated, afraid and confused or not, violent hate speech doesn't often get framed as needing… empathy.
I mean 40% violent speech laced with hate for America flows through their system and Facebook is like oh, look dangerous white nationalism, maybe this time the usual "afraid and confused" Nazis will win and we can say we helped them during their time of need?
*** This is a Security Bloggers Network syndicated blog from flyingpenguin authored by Davi Ottenheimer. Read the original post at: https://www.flyingpenguin.com/?p=33204