Edible Wrappers Are Centuries Old. Why Are They Now Disruptive?
In 1846 a chef in Paris created a disruptive edible paper portrait of a visiting Egyptian dignitary, perched on top of a pyramid of pulled sugar steps:
On the top of the [sugar] pyramid was a portrait painted in food dyes on sugar paste, of the Pasha's venerated father Ibrahim. As the Pasha picked it up to examine it more closely he saw that embedded in the filigree icing frame of the portrait was a tiny, but perfect, portrait of himself.
Pretty innovative, considering edible wafer paper already had been around for hundreds of years before that.
In another disruptive example about 50 years later, a London chef started a "fad" of edible paper, including a dinner menu.
It appears an ingenious chef conceived the idea of making an edible menu card, and, after many experiments, he produced one composed of the sugar tissue paper which is used on the bottom of macaroons, and which is, of course, edible.
It's been so common, and easy to make and use as a food wrapper and decoration, we might take it for granted and forget it exists.
Here's a sentence I found on a site selling huge quantities of edible wrapper at super low cost, right next to a DIY recipe:
Wafer paper is a single most affordable product in edible printing industry, everyone uses it, from big box bakeries to stay at home moms.
And now for some "disruption" news to contrast with this long history of edible wrappers:
'A disruptive solution to pollution': introducing edible packaging.
Indeed. Let's hear how an inexpensive and common thing that's centuries old is disrupting things.
Combining her engineering background with her passion for a 'cradle to cradle' lifecycle, Lamp has launched a new company, Traceless, to commercialise the idea.
I would be more impressed if she was marketing her idea as a way to deliver one-time written passwords (OTWP), or send ephemeral messages, which you obviously would eat after reading.
One can only imagine if she had an history background whether she still could have commercialized her ideas without framing them as something new.
Traditional nougat wrapped in traditional traceless edible packaging anyone?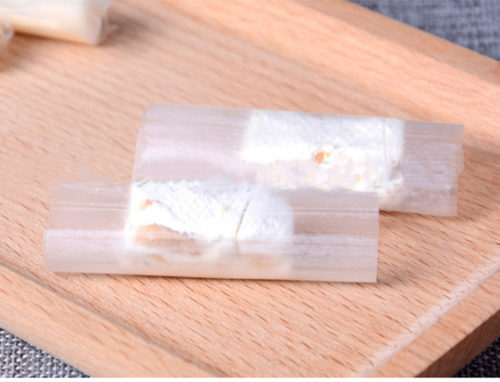 *** This is a Security Bloggers Network syndicated blog from flyingpenguin authored by Davi Ottenheimer. Read the original post at: https://www.flyingpenguin.com/?p=33229