Why is Wikepedia So Racist?
I recently had to explain that someone edited the Wikipedia entry on Woodrow Wilson to falsely claim that the very man who called for a return of the KKK, restarted the KKK as President, and led its rise to humanitarian disasters across America… was opposed to the KKK.
Click image to enlarge: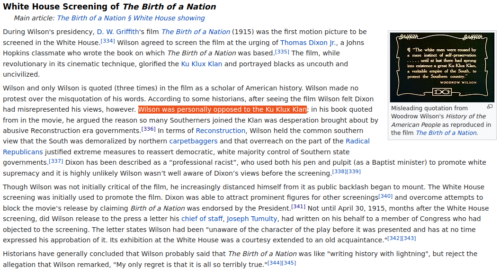 This would be like saying General Grant was personally opposed to destroying the KKK. Wrong. Grant destroyed it. Wilson restarted it. Those are facts.
That totally false sentence about Woodrow Wilson entered into a Wikipedia post makes literally no sense, is obviously counter-factual, yet there it is without any citation or reference at all.
It's like someone from the KKK dropped in and thought it would be really funny for people to read that water in the ocean isn't wet [citation needed]. The cost for the KKK to disrupt and confuse with these attacks is very low, the cost to defend (without proper preventative measures) is high.
I'm finding this all over Wikipedia. Here's another example from the very racist history of voucher schools, fraudulently trying to minimize their impact and use by white insecurity hate groups in America.
Click image to enlarge:

Wikipedia clearly has widespread integrity issues, weak editing/deployment pipeline process and quality is very low.
*** This is a Security Bloggers Network syndicated blog from flyingpenguin authored by Davi Ottenheimer. Read the original post at: https://www.flyingpenguin.com/?p=32088