The Doritos Conspiracy
As I am sure many of you know, white male executives at Disneyland "created" Doritos to crush a Hispanic local tortilla chip inventor (Rebecca Carranza) and drive her family business under.
The headline in Popular Mechanics magazine saluted a manufacturing triumph in Los Angeles: "Tortillas Meet the Machine Age." It was 1950, and the El Zarape Tortilla Factory, among the first to automate the production of tortillas, had used a tortilla-making machine for three years.

Corn and flour disks poured off the conveyor belt more than 12 times faster than they could be made by hand. At first many came out "bent" or misshapen, as company President Rebecca Webb Carranza recalled decades later, and were thrown away.

For a family party in the late 1940s, Carranza cut some of the discarded tortillas into triangles and fried them. A hit with the relatives, the chips soon sold for a dime a bag at her Mexican delicatessen and factory at the corner of Jefferson Boulevard and Arlington Avenue in southwest Los Angeles.
Ok, let's be honest. Nobody talks about her or how Disneyland crushed her with intention.
Fast forward to today, the genius of Carranza's automation machines and her invention of tortilla chips are obscure at best.
Meanwhile a member of the insurrection against the US has raised a stir wearing Doritos on his lapel, as it was incorrectly thought to be a "Q hate symbol"… or is it correct, even tangentially?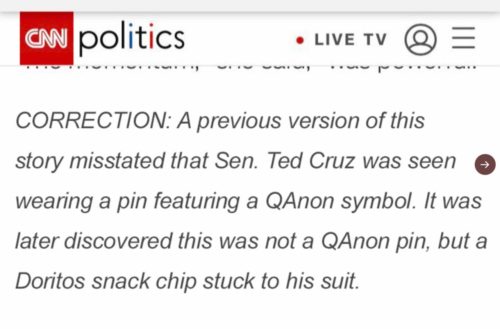 *** This is a Security Bloggers Network syndicated blog from flyingpenguin authored by Davi Ottenheimer. Read the original post at: https://www.flyingpenguin.com/?p=31132