Adding a Trusted Root Certificate Authority to Group Policy Objects
Organizations that want the best in authentication security should look no further than certificate-based authentication. When compared to using credentials for authentication, it's simply no contest.
The two pillars supported by certificates are efficiency and security. A certificate-based network can be impervious to outside attacks while offering a streamlined experience for both users and admins. To have a functional certificate-based authentication scheme, it must include detailed policy settings and an established chain of certificate trust that starts with the Root Certificate Authority (CA).
Building a X.509 Digital Certificate-Based Network
While certificates represent complex encryption processes and high level security to protect against outside attacks, they don't have to be difficult to configure. There are a number of tools available to make configuration a rapid process. First and foremost is understanding the pieces involved and how they add up to a secure and user-friendly network.
Root Certificate Authority
The root CA is a certificate authority that is stored in the Public Key Infrastructure (PKI). It contains the root certificates that are signed by the root CA and subsequently distributed throughout the network. They can be thought of as the first level of the certificate chain of trust.
Certificate Chain of Trust
The certificate chain of trust is a list of certificates stemming from the original root certificate to the end user device certificate. Each certificate in this chain will be trusted by the one above it because they contain a common signature from the root CA.
Because they share that signature that establishes the certificate as a trusted entity, it can be used to validate and "trust" the identity of users, servers, devices, websites, etc.
Group Policy Object (GPO)
GPO is a collection of policy settings used to dictate what users can access on an organization's secure network. One of the most common implementations is to limit which resources particular user groups are able to access.
The concept of Zero Trust networking is based around giving a user access to only the resources they absolutely require to limit the scope of a breach in case one happens. Configuring detailed GPO settings is a key step in protecting the most valuable data on an organization's network.
Why Add a Root Certificate Authority to GPO?
When configuring network policies, it's particularly useful to add the root CA to GPO because it establishes the root CA as the base level of trust when applying GPO settings. All certificates that are distributed to users will be signed by the root CA, which is by default recognized by GPO.
From there, all GPO settings can be distributed when users obtain a certificate for their devices. During the authentication process, the user's device will automatically send their trusted certificate and GPO settings will be applied immediately.
How To Add the Root CA to GPO
Adding the root CA to GPO isn't an overly complex process, so here we will discuss a shortened version of the steps and what the process entails to demonstrate its ease of use.
When broken down, the process can be summarized into two primary steps:
First, an admin opens the Group Policy Management Console and creates a new GPO for a unique user group. They should edit the GPO to reflect the use and policy settings they want to enforce for that particular group.
After configuration, import the root certificate signed by the root CA to establish the certificate chain of trust. Once established, users that apply to be added to the secure network will be given a trusted certificate and GPO settings to make navigation easier.
Of course, this is only the beginning of operating a certificate-based network. Streamlining the distribution of certificates and managing them over time is a challenge for some organizations, but it can be simplified and made easy for both users and admins.
Certificate Management with SecureW2
SecureW2 prides itself in being a one-stop-shop for everything an organization needs to set up and maintain a certificate-based network. A proper certificate management solution (CMS) is vital for the long term health of your network, and ours is rated among the best in the industry.
SecureW2 provides all the tools you need to quickly configure and manage the certificate life cycle. Our turnkey PKI, Cloud RADIUS, and single pane management console integrate with any network infrastructure and can be configured in hours. From there, admins can view every authentication event and provide remote troubleshooting should any issues arise for users. Additionally, our knowledgeable support staff is available for quick assistance.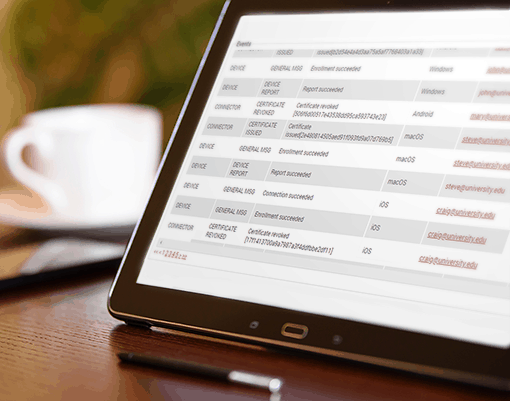 On the user side, obtaining a certificate for authentication is often too difficult if they are left to manually configure their device. SecureW2's JoinNow onboarding solution eliminates any confusion by completing the process for the user. They simply provide their IDP identity and JoinNow detects their device OS and configures it for certificates.
Within minutes, users are able to get a certificate that will authenticate them automatically for years, potentially. And with this certificate, their user group GPO settings are already applied, giving them access to only the necessary resources.
Of course, if a person is a member of an organization for years, their GPO setting requirements may change with time. In the past, this would mean replacing every certificate on every device, which isn't the most efficient process.
With SecureW2's Dynamic Cloud RADIUS, the RADIUS communicates directly with the IDP during authentication, allowing for real-time policy decisions via GPO. Instead of replacing every certificate, admins simply need to update their GPO settings and apply them to the IDP. The user's permissions will be instantly updated without experiencing any interruption in network service.
Efficiency and Security with a SecureW2 Root CA and GPO
The process to add a root CA to GPO is a simple one that results in a secure chain of trust for the network. Certificates distributed to users will be immediately trusted and quickly authenticated to provide a hassle-free browsing experience for users.
SecureW2 has affordable options for organizations of all sizes. If you want to benefit from the advantages of certificates, check out our pricing page.
The post Adding a Trusted Root Certificate Authority to Group Policy Objects appeared first on SecureW2.
*** This is a Security Bloggers Network syndicated blog from SecureW2 authored by Jake Ludin. Read the original post at: https://www.securew2.com/blog/adding-a-trusted-root-certificate-authority-to-group-policy-objects