Best Network Security Solutions for MSPs
Social engineering attacks like phishing, malware, and ransomware are dangerous to organizations because they take advantage of an IT network's weakest link: end users. People are fallible and can be tricked into giving away their credentials, allowing a malicious actor to infiltrate the network and start farming data.
MSPs are particularly vulnerable because they are gold mines for cybercriminals. Since MSPs handle the IT infrastructure for multiple networks, hacking into an MSP means all the clients' data will be compromised.
Cyber security should be a high priority for MSPs, and they can start by integrating automated software into their environments. Automating IT tasks remove end users from the equation, eliminating the risk they bring. The IT workload is lightened since admins won't have to do tasks manually, like managing admin rights and escalation. Here are a few solutions that can help MSPs strengthen network security.
SolarWinds RMM
SolarWinds is an IT Management software company with an arsenal of software solutions, including the Remote Monitoring and Management (RMM) service. MSPs admins are provided with a comprehensive set of RMM tools to secure and manage client IT systems.
An integral feature of SolarWinds RMM is Endpoint Detection and Response (EDR), which provides policy-driven automation, near real-time file analysis, a signatureless approach, and protection even when endpoints are offline. The EDR allows MSPs to detect potential threats to client networks and respond swiftly before they attack.
Along with EDR, SolarWinds RMM provides centrally managed antivirus software with signature-based scanning targeting known threats and heuristics checks detecting new viruses. Furthermore, admins can use real-time monitoring and behavioral scanning for robust malware protection.
Managing network security for multiple clients who all have their own remote users, VMs, and endpoints is a laborious task for smaller MSPs. Luckily, SolarWinds RMM can be up and running almost immediately to help MSPs improve client network security.
Heimdal Security's Thor AdminPrivilege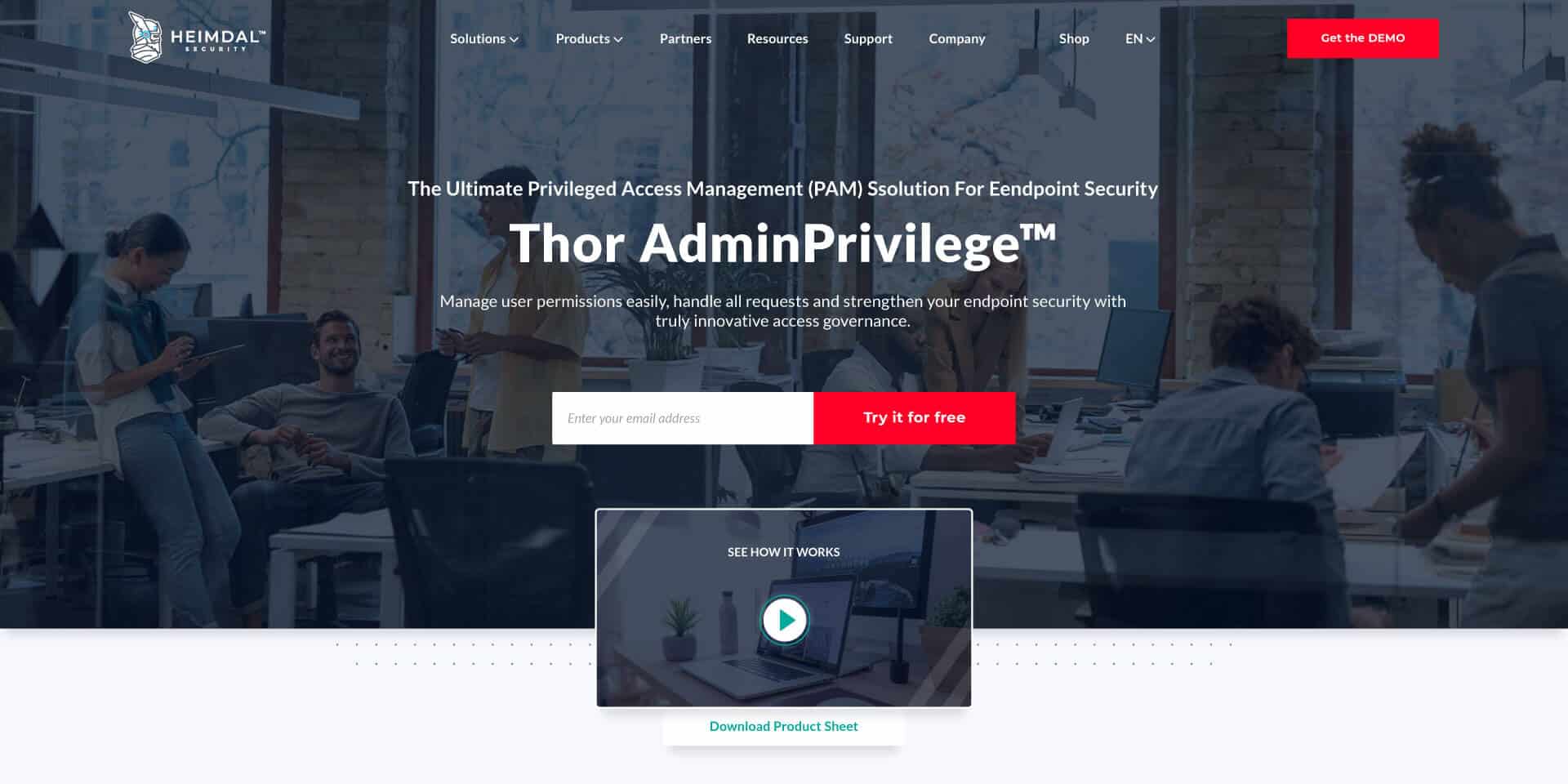 An often overlooked security risk for MSPs is not updating user permissions regularly. User permissions are constantly changing and humans are imperfect. Admins could easily forget to remove a user's access from mission-critical resources, creating an opportunity for insider threats. Gartner ranks user access management as the #1 security project organizations should undertake.
Heimdal Security provides Thor AdminPrivilege, a Privileged Access Management (PAM) tool that MSPs can use to better manage client user permissions and access levels. Their centralized dashboard allows admins to approve or deny user requests remotely or set up an automated flow. Admins also have an easier time monitoring networks with a centralized dashboard showing each endpoint's activity.
With Heimdal's PAM solution, admins no longer need to manually escalate rights and can fast-track admin rights grants and removal processes. The built-in safety by design architecture improves endpoint security and allows admins to increase network productivity.
SecureW2's PKI and CloudRADIUS
Digital certificates provide high levels of security by using public-private key cryptography. Network admins looking to implement certificates can integrate their network with SecureW2's PKI.
A Public Key Infrastructure (PKI) is the amalgamation of implementing and managing certificates. Building one from scratch is an incredibly laborious task that requires trained PKI experts, which is why Managed PKI Services have become so popular.. SecureW2's Managed PKI Services comes with JoinNow, the #1 Rated Device Onboarding software in the industry. It simplifies the onboarding process, by configuring them properly for 802.1x and Server Certificate Validation and equips every network device with a certificate. It's super easy to configure MDM managed devices as well.If you have Jamf, Intune, Airwatch, or many of the other major MDMs, you can build powerful Gateway APIs to configure in your payloads/profiles so devices can auto-enroll for certificates.
With SecureW2's Managed Cloud PKI, enterprises can easily enable certificate-based 802.1X EAP-TLS authentication for Wi-Fi or VPN. By authenticating with certificates, enterprises can completely eliminate over-the-air credential theft and the terrible user experience that comes with passwords and their reset policies.
Along with our Cloud PKI, SecureW2 created CloudRADIUS, a turnkey RADIUS solution that can be implemented into virtually any environment because it works with all major SAML and LDAP Identity Providers like Google, Okta, AD, and Azure. Designed from the ground up for certificate-based authentication, it eliminates the risk of sending credentials over the internet and eliminates the risk for credential theft.
CloudRADIUS also comes with Industry's First Dynamic Policy Engine that natively supports cloud IDPs (Google, Azure, Okta) and allows admins to enforce runtime-level policy decisions at the moment of authentication. Along with the benefits of being in the cloud, CloudRADIUS is more scalable than on-prem alternatives, making it easy to expand your network's capabilities if your business grows.
Cyber security should be the number one priority for MSPs. SecureW2's software comes at an affordable price for MSPs of all sizes.
The post Best Network Security Solutions for MSPs appeared first on SecureW2.
Recent Articles By Author
*** This is a Security Bloggers Network syndicated blog from SecureW2 authored by Sam Metzler. Read the original post at: https://www.securew2.com/blog/best-network-security-solutions-for-msps/