How to Win With Propaganda
An advertisement writer posted on LinkedIn his reflections on "the copy test" to hire the best talent. It boils down to this:
… if you can get your readers to empathise with you, in a tone they resonate with, you've won.
Judging by the comments I sometimes get (e.g. a white woman angry about my Dambusters post because she thinks the n-word is a very fine name for a dog) clearly I still have a lot of training to do before I'm winning with this site.
In related news, a book by Thomas Kent is coming out now with advice on how to advance democratic values to combat dangerous Russian propaganda
Significant attention has been given to Russian disinformation operations and their corrosive effect on the United States and other democratic governments. The Western responses have thus far been weak and uncoordinated, according to Thomas Kent, former president of Radio Free Europe/Radio Liberty who is currently a Jamestown Senior Fellow and adjunct associate professor at Columbia University. He proposes an energetic new strategy to confront this threat: aggressive messaging to combat Russian information operations, while promoting the values of democracy that too many in the West have lost faith in.
And on that note, a very old book called "Techniques of Persuasion" looked into Communist indoctrination camps run by the Chinese during the Korean War and highlighted how important information gathering ("confession") was to propaganda methods working.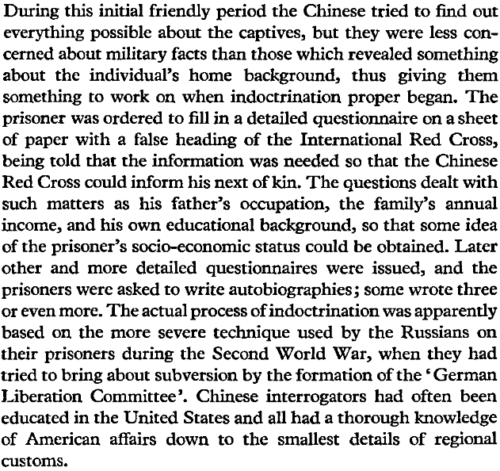 Similar methods are described in the film "The Luft Gangster: Memoirs of a Second Class Hero". When black pilot Lt. Col. Alexander Jefferson, USAF (Ret) was shot down in Germany he was surprised to find Nazi prison camps working hard to get empathy out of him.
The Nazis demonstrated they already had access to every detail of every American's life down to home street, even showing him high school photos. The real elephant in the room, and palpable in the film, is whether Jefferson fell for Nazi propaganda that they respected his life more than America.
Recent Articles By Author
*** This is a Security Bloggers Network syndicated blog from flyingpenguin authored by Davi Ottenheimer. Read the original post at: https://www.flyingpenguin.com/?p=30231