This Day in History: 1947 U.S. National Security Act
A recent post I published gave some of the backstory of modern intelligence and information warfare in America, from 1930s through WWII.
That post really culminates on this day in 1947 when the CIA officially was established. The history department of that agency doesn't put things lightly when it describes the National Security Act (NSA):
President Harry S. Truman signed the National Security Act of 1947 (P.L. 80-235, 61 Stat 496) on July 26, 1947. The act – an intricate series of compromises – took well over a year to craft. […] The importance of the National Security Act cannot be overstated. It was a central document in U.S. Cold War policy and reflected the nation's acceptance of its position as a world leader.
You can read details of the "intricate series of compromises" in the 1996 document on the State Department site: 1945-1950 Emergence of the Intelligence Establishment
Speaking of the State Department, their historian is far more muted in assessment of the NSA and takes a weird tangent that leaves the CIA to a secondary story:
Each President has accorded the NSC with different degrees of importance and has given the NSC staff varying levels of autonomy and influence over other agencies such as the Departments of State and Defense. President Dwight D. Eisenhower, for example, used the NSC meetings to make key foreign policy decisions, while John F. Kennedy and Lyndon B. Johnson preferred to work more informally through trusted associates. Under President Richard M. Nixon, the NSC staff, then headed by Henry A. Kissinger, was transformed from a coordinating body into an organization that actively engaged in negotiations with foreign leaders and implementing the President's decisions. The NSC meetings themselves, however, were infrequent and merely confirmed decisions already agreed upon by Nixon and Kissinger.
To be fair, while Truman had a particular take on it, those following him into office haven't been entirely different. The Act created a National Security Council with an Executive Secretary to advise the President somehow (arguably through Department of State), yet did not say anything about a National Security Advisor (NSA). Nonetheless after Eisenhower's appointment of Robert Cutler in 1952 to be "Special Assistant to the President for National Security Affairs", which elevated/oversaw the Council, every president since has appointed a NSA.
The Air Force historian, for some additional perspective, takes an opportunity to thumb its nose at the Army and Navy, while pumping up its own balloon and ignoring the CIA altogether:
This act officially established the United States Air Force as a separate and co-equal branch of the United States Armed Forces. The U.S. Air Force's quest for independence was a long and often contentious struggle between air-minded officers and the entrenched Army and Navy bureaucracy.
To be fair, the NSA also replaced the Department of War (started in 1789) with an Army Department in a new National Military Establishment (NME). Seems unfair for the Air Force to be talking about independence from an entrenched Army, given an Army department also was brand new and co-joined to the Air Force in NME (by 1950 called the Defense Department).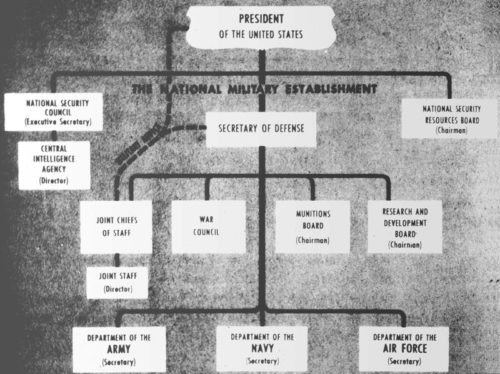 However, back to the CIA claiming acceptance of world leader position in 1947, it would take another whole year to this very same day in 1948 before Truman signed Executive Order 9981 to formally declare an end to discrimination in its own military.
The CIA historian is not wrong, the NSA was a significant event in American history that shifted the entire country to discussion of National Security along the lines that the CIA's father Donovan had envisioned. It seems obvious now but the term "security" brought far more expansive thinking than prior terms such as defense, adversary or threat.
Somehow both the creation of the NSA and the Civil Rights order always have taken a back seat, if mentioned at all, when narratives are given about America during the Cold War (usually in terms of the Truman Doctrine and Marshall Plan).
Recent Articles By Author
*** This is a Security Bloggers Network syndicated blog from flyingpenguin authored by Davi Ottenheimer. Read the original post at: https://www.flyingpenguin.com/?p=29712