SANS Live Online vs. OnDemand: Which One Is Right for You?
SANS recently added a number of new, flexible online training opportunities for you via a Live Online training platform. The new training format and schedule are designed to help you keep your skills sharp from home. We captured some of the exciting details of this change in our recent blog, but if you haven't yet had a chance to explore the new offering, don't worry – you can get a taste for your options here.
SANS is now 100% online, offering two training formats so you can get the training you need – online, anytime and anywhere.
Live Online – Live, interactive streaming sessions with your instructor, offered globally in one-, two-, three-, or six-week conveniently scheduled options
OnDemand – Self-paced training with four months of 24/7 access to your course in the SANS OnDemand platform
Live or OnDemand – Quick Selection Tools
There are some important differences between the two online training formats, the information below may help you navigate through them more quickly.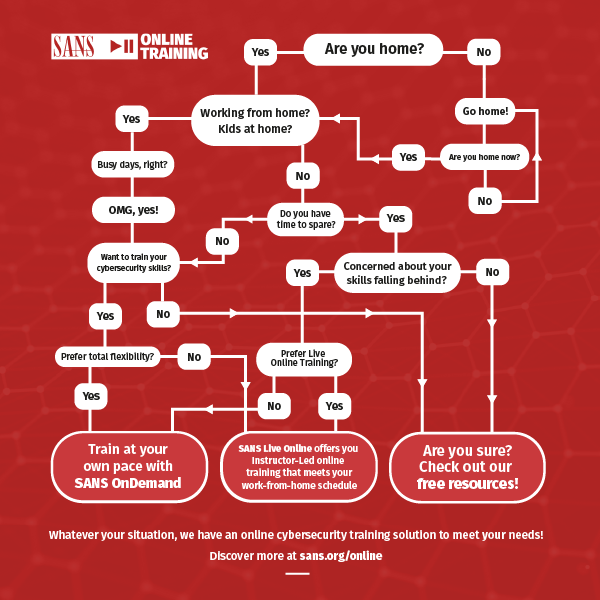 For example, it's easy to see that those requiring maximum flexibility will find a good fit with SANS OnDemand, as this format gives you four months to access all the course materials and complete your training at your own pace. On the other hand, if you're someone who really needs a bit more structure to help you stay on task, SANS Live Online will be a better fit, as this format has top SANS Instructors leading you through the course materials via livestream at a faster pace.
The Not-So-Obvious Differences
We know there's more that goes into your training decisions than how you prefer to learn. With that in mind, explore this comparison of the format features.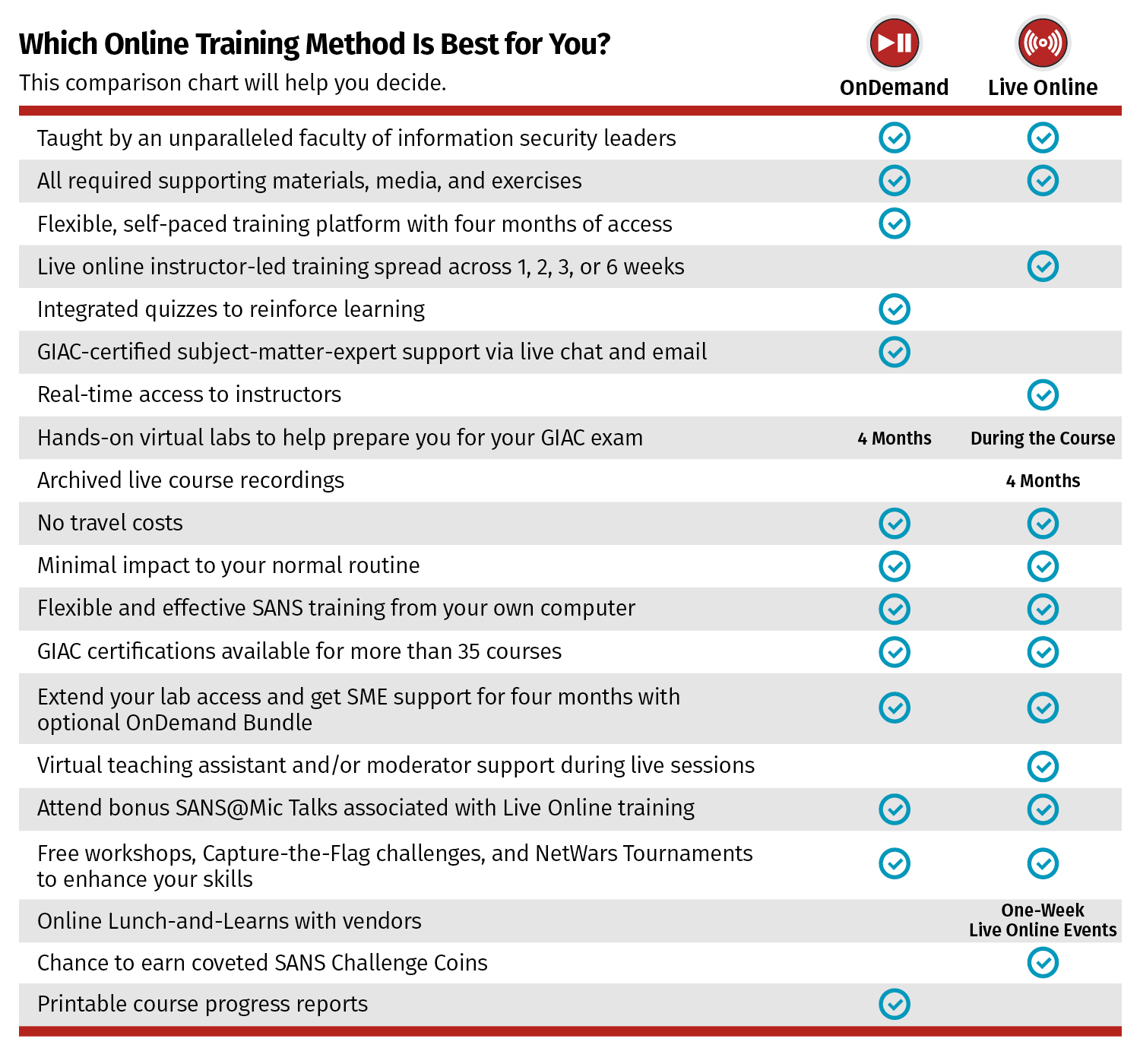 Add-Ons and Options
SANS now delivers electronic, full-color courseware and materials with all courses (find more details about this change in this blog).
Available for 32+ courses, you have the option to purchase the associated GIAC Certification with both Live Online and OnDemand courses; your purchase of the GIAC Certification attempt add-on additionally includes printed books for your SANS course.
Students who want the best of both worlds can purchase a Live Online training course and add-on an optional OnDemand course bundle, which extends your hands-on lab access and gets you GIAC-certified SME support for four months.
Questions?
We hope this has given you a clear idea of the features of our two different training formats, and you now know which one is right for you. When you're ready to register for your next Live Online or OnDemand course, you can explore the full training schedule for all our courses and associated GIAC certifications here. 

Still have questions? We've got answers. We're always happy to assist our students. If you still have questions, or want to talk through your training options, contact us here. 
Recent Articles By Author
*** This is a Security Bloggers Network syndicated blog from SANS Blog authored by SANS Blog. Read the original post at: http://feedproxy.google.com/~r/SANSForensics/~3/CMRpaRh3uvE/sans-live-online-vs-ondemand-which-one-is-right-for-you-