Helping Your People to Safely Work From Home With REL-ID WFH
"May you live in interesting times"
– someone who clearly had a sardonic streak
I'd call the time we're living in right now more than just interesting. The COVID-19 pandemic has hit every organization like a ton of bricks, and we're all struggling to adapt. Obviously one of the biggest challenges has been the need for every organization to support a much bigger work-from-home scenario than they are used to. And that has created a myriad of problems for companies as they adjust to this new normal, where they have to find out how to keep their workforce productive while keeping data and sensitive corporate resources protected.
Having your remote workforce jump from 10-20% to over 90% in such a short period of time has broken the network perimeter model of security that so many organizations defaulted to. Call center applications and customer service systems that have access to sensitive customer data and PII, project management and bug tracking systems, servers and databases holding sensitive corporate data – workers have been cut off from getting access. VPN systems that were set up to serve a small remote workforce are straining to scale up to, or remain cost effective, for companies that have moved to a complete work-from-home model. Startups and other smaller organizations with limited IT staff have been particularly hard hit. And with people having to now use their personal computers on their home WiFi systems, the corporate security and individual privacy concerns have landed front and center. People don't want their personal traffic flowing into the corporate network, and IT don't want to deal with the added traffic and the hassle of helping people properly secure home WiFi.
Uniken has been forced to go through the same transition as so many other companies, as our employees and contractors had to completely cut over to working from home over one weekend. One of the things that helped us do this securely was our use of one of our own products that is part of the REL-ID Security Platform – the REL-ID Desktop app. We configured it for use by our employees in engineering, finance and HR to get access to the sensitive applications and servers running in our data center that was restricted to the office network. Seeing our success with this, and hearing feedback and requests from customers who have been using REL-ID Desktop for secure remote access for a while, we broadened the capability to create REL-ID WFH (REL-ID Work-From-Home).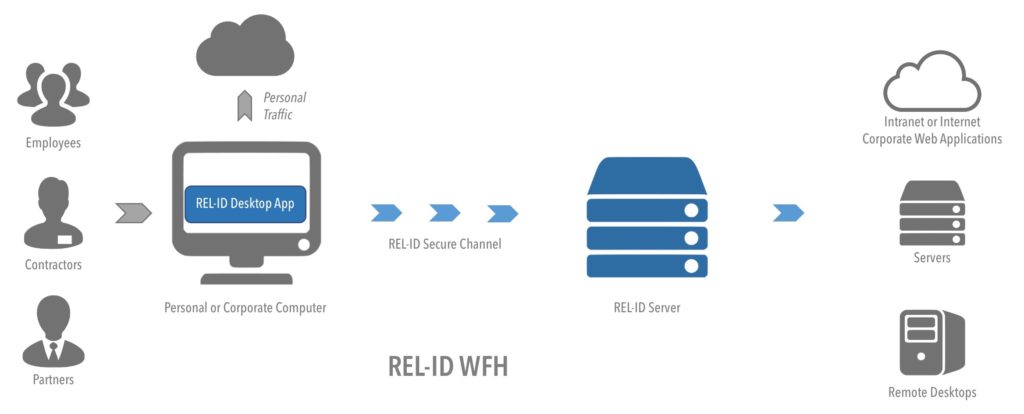 REL-ID WFH High Level Architecture
Built on the core security capabilities of the REL-ID Security Platform, REL-ID WFH relies on user authentication and device identity to grant multi-factor role-based access to applications, with all traffic secured using an individualized, encrypted network connection. REL-ID WFH lets your employees and extended workforce access internal web apps, servers, databases and client-server applications from their corporate or personal computers, without the need for a traditional remote-access VPN. REL-ID WFH can be easily installed by the remote workers themselves without the need for IT to install certificates or remotely access the workers personal device. With REL-IDs MITM-proof secure channel, organizations don't have to worry about the implications of inadequately secured home WiFi. Furthermore, unlike most corporate VPNs, REL-ID WFH splits the traffic at the computer itself, only sending corporate traffic to the proxy running within the corporate network (no 3rd parties get visibility), and letting personal traffic go straight out to the internet without entering the corporate network. This provides the remote workers the privacy they need, while preventing the bandwidth of the corporate network from getting overwhelmed. There are a host of other security oriented features as well that you can learn more about here.
In these difficult times, we're committed to helping organizations that, just like ourselves, have an immediate need for quickly enabling secure remote access. In conjunction with announcing the availability of REL-ID WFH, we've worked with our partners to put in place special programs and quickstart guides to rapidly get you up and running, and are also waiving all license fees for REL-ID WFH for the entirety of 2020. So if you need help solving the pressing need of providing secure remote access to your remote workforce, get in touch. We're happy to help.
Recent Articles By Author
*** This is a Security Bloggers Network syndicated blog from Talking Identity authored by Managed WordPress Migration User. Read the original post at: https://blog.talkingidentity.com/2020/05/helping-your-people-to-safely-work-from-home-with-rel-id-wfh.html