And Now, for Something Awesome… SANS Launches New Series of Worldwide Capture-the-Flag Cyber Events
We're working to bring the cybersecurity community together with free virtual opportunities for learning and upskilling during these unprecedented times.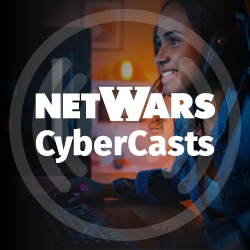 We're excited to announce the launch of our new series of virtual, hands-on Capture-the-Flag (CTF) events! We'll be delivering our new NetWars CyberCast offerings on a weekly basis, now through May 31, and we have a variety of fun and engaging CTF events suited for people across the cyber security community.
I don't need to tell you that these are unprecedented times for the world. Businesses and individuals have had their lives upended to varying degrees and many are facing travel restrictions or shelter-in-place orders. To help individuals and organizations keep their cyber security skills honed at times like this, the SANS Cyber Ranges
team has been hard at work coming up with fresh content and interactive challenges. And in this time of social distancing, we want to provide the opportunity for people to come together to interact in a virtual environment, while learning and improving cyber skills in the process.
"As you know, these are difficult times," said Ed Skoudis, SANS Fellow and Director of SANS Cyber Ranges. "But also, the attackers have really stepped up their game, and they're doing some really nasty stuff. I mean, you think, 'Wow, this is a time when people should kind of band together and we should help each other.' And that's all true and good, but bad people are really bad."
Because these malicious attackers have upped their game, SANS is leveraging its battle-tested platforms and infrastructure that it's been perfecting over the last 17 years to deliver programs that not only keep our community engaged but challenge cybersecurity pros to up their skills at the same time.
Take Me to the Cyber Ranges!
Here's the schedule of events thus far, with more details to come for each event as well as for future offerings:
March 19-20 | Core NetWars Tournament CyberCast
March 26-27 | Cyber FastTrack**
April 2-3 | Mini-NetWars Mission 1 CyberCast**
April 8-9 | DFIR NetWars Tournament CyberCast
April 16-17 | NetWars Capstone CyberCast**
April 23-24 | Mini-NetWars Mission 2 CyberCast**
April 30 – May 1 | Cyber Defense NetWars Tournament CyberCast
**Open to the entire community, for FREE (registration required).
While we are thrilled to offer the majority of these events to the entire community for free, we are also pleased to be able to offer something special for students enrolled in a live SANS course between March 1 and May 31. Those students will gain access to all of our Core, DFIR, and Cyber Defense NetWars Tournaments according to the schedule above. Usually, students at SANS Live Training events get access to just one NetWars event, but now students will get to try "all the various flavors of NetWars over the various weeks," as Ed described it — and multiple times, too.
NOTE: Registration Deadline Approaching — On March 26-27, compete in the free SANS Cyber FastTrack CTF. The competition is open to all to participate for fun, and current college students and recent graduates will also be eligible to earn a $22,000 scholarship to the SANS Technology Institute. Deadline to register is Sunday, March 22!
For all other events on the above list, students will receive emails with instructions on how to register for each of the special NetWars CyberCast events, and registration will be made available in your SANS account dashboard.
If you haven't participated in a NetWars CTF event, you're missing out on a super fun way to hone your skills. "CTFs are a tremendous learning vehicle," Ed said – and he should know, Ed's been playing CTFs for about 25 years now. "The SANS CTFs are especially nice because we have an integrated hint system, so if you get stuck, you can get some nudges, and that way you're learning and teaching yourself as you go."
We're excited to see our community come together in this way in the weeks and months ahead, and we remain committed to supporting our community in this difficult time.
And one last point for those who will be participating: If you want to crush these upcoming CTFs, we've got just the resource for you. Pick up some hot tips for crushing CTFs from superstar Katie Knowles in this video.
Bookmark this blog page and check back in often in the coming weeks and months. We'll be updating this space with more information about NetWars and other SANS CTF events as it becomes available.
Recent Articles By Author
*** This is a Security Bloggers Network syndicated blog from SANS Blog authored by SANS Blog. Read the original post at: http://feedproxy.google.com/~r/SANSForensics/~3/mtKdEm_pKBk/and-now-for-something-awesome-sans-launches-new-series-of-worldwide-capture-the-flag-cyber-events