The Role of Analytics in Protecting Healthcare Data Privacy and Security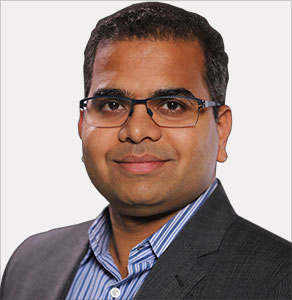 Nilesh Dherange
Chief Technology Officer, Gurucul
Healthcare has traditionally had a weaker security profile than most other industries. On the one hand, it is a favorite target for ransomware attacks, and for hackers looking to steal confidential patient records that have a high resale value on the black market. On the other, healthcare experiences more insider attacks than any other industry.
Recent research reveals that healthcare companies face their biggest threats from malicious insiders that abuse their access privileges to view or exfiltrate personally identifiable information (PII) and protected health information (PHI) data. Verizon's 2018 Protected Health Information Data Breach Report noted that 58 percent of data breaches in healthcare stem from employees or contractors.
Clearly, payers and providers are severely challenged to prevent both insider and outsider attacks on patient and corporate data.
To limit these threats, progressive organizations are using real-time analytics and risk-scoring to automate security controls. This approach monitors the behavior of users and devices, and applies analytics to risk-score them. When anomalies from normal patterns are detected, the risk score increases.
The Insider Threat Landscape
Insider threats pose the biggest challenges to healthcare organizations because they can happen without triggering any security alarms.
A trusted employee can steal confidential patient and corporate information, or tamper with it, and even sabotage systems. While many insider attacks are carried out by disgruntled employees, some can be unintended or simply human error. For example, an employee might mistakenly send confidential information to another employee or to an outsider, or give network access to someone who should not have it.
In some cases, outsiders use social engineering to trick employees into giving up their account credentials. Such ploys include a spoofed email, phishing scheme or a "call from IT" seeking a person's ID and password.
Top Insider Violations
Some of the most common insider threat incidents in healthcare include:
Snooping on the medical records of friends, family, neighbors, and celebrities
Sending sensitive data to personal accounts, competitors, or bad actors
Printing, downloading and exporting patient records and reports
Most of these activities can be partially addressed by monitoring activity logs from Electronic Medical Records (EMR) Systems such as Allscripts, Cerner, and Epic and from security tools including firewalls, VPNs, etc. However, manual monitoring is incapable of identifying and remediating threats in real-time. This is where data analytics come into play.
Security analytics powered by machine learning enables healthcare organizations to analyze large volumes of data in real time and to predict anomalous behaviors. Machine learning uses historical data to create behavior baselines for users, devices, and other entities.
These baselines, which are used to identify deviations from normal patterns, are self-adjusting and change as the user and entity behaviors change. Such capabilities can be used not just to monitor behaviors, but to assign risk scores to individual users and devices — resulting in highly accurate information that singles out potentially risky activity in real time.
Analytics and risk scoring facilitate the automation and orchestration of security decisions. Sometimes called model-driven security, this approach can respond to threats with the speed and accuracy of a machine by enforcing new controls when activity exceeds pre-determined risk thresholds.
Real-time Detection and Prevention of Insider Threats
As a real-time security control, model-driven security collects all enterprise intelligence data that can be correlated back to a single user identity such as proxy logs, entitlements, actions taken using those entitlements, and basically anything they can bring back into a data warehouse. Then, behavioral models are applied to the data to develop a risk score for users within the company.
Risk scores are like credit scores. The same way a credit score goes up and down depending on money owed and payment history, a user's risk score goes fluctuates depending on the actions taken while using their access permissions. The risk score is adjusted dynamically, based on a user's behavior.
In this way, an insider's risk score can serve as a dynamic security control. If the score is high, the organization can block the user's account. Or, if it's medium-risk, the user can be prompted to call in to the help desk to verify his or her identity. This has been historically impossible to do without the ability to risk score users dynamically. When a user's risk score increases in a short amount of time, or exceeds a threshold, the organization can send out an alert, lock an IP address, restrict all traffic via DLP, open a security incident, etc.
Risk-scoring using analytics enables healthcare organizations to predict, detect and prevent insider threats, in ways that are impossible using static rules. It reduces much of the friction imposed by conventional security mechanisms, while providing continuous risk monitoring and real-time intervention when and where warranted.
External Link: The Role of Analytics in Protecting Healthcare Data Privacy and Security
The post The Role of Analytics in Protecting Healthcare Data Privacy and Security appeared first on Gurucul.
Recent Articles By Author
*** This is a Security Bloggers Network syndicated blog from Blog – Gurucul authored by Nilesh Dherange. Read the original post at: https://gurucul.com/blog/the-role-of-security-analytics-in-a-zero-trust-environment