How to Solve Windows 10 Taskbar Issues Across Domains

Windows 10 Taskbar Not Working for Users?
Whether its Post-it notes, Pinterest or the Windows 10 Taskbar, users love to pin stuff to have quick access to it. As an administrator, you want to make sure that their most important stuff is pinned to the Taskbar, but how do you manage that?
Easy, with PolicyPak Windows 10 Taskbar Manager.
There's only so much available space contained within the Windows 10 taskbar, and PolicyPak Taskbar Manager will make sure that you, the administrator, have priority access to it for all of your users and computers. Like all of our component suite solutions, it all starts with creating a GPO within Group Policy Editor.
PolicyPak Windows 10 Taskbar Basics
In the case of Taskbar Manager, we have to create a collection then add policies as is shown below.
We then configure some basic settings for our collection. Note in the screenshot image below we have an Action Mode dropdown menu.
Merge Mode means that items are merged. It includes operating system defaults, pins of the user, and the pins you are creating.
Replace mode removes all OS defaults and anything a user has manually pinned. Only the applications you pin will be displayed, even if it is only one.
You can choose the right mode for your environment and enterprise culture. It's the perfect way to pin web applications or portals that your users access repeatedly. You can see Merge or Replace as seen here.
The main thing that PolicyPak Taskbar manager does is pin either Universal applications or Desktop applications.
To start, I want to pin the "Alarms and Clock" Windows application so let's choose "New Universal Application" as is shown in the screenshot below.
Then pick the application from the picklist like what you see here.
When the end-user logs on next time, they will see the item pinned nicely to the taskbar. Because we selected Merge mode, existing icons are preserved. The result looks like what you see here.
You can repeat the process if desired, picking a Desktop Application (instead of a UWP application) and it works equally well. For instance, selecting Internet Explorer as a desktop application in the Group Policy MMC editor like what you see here is easy.
The results are easy to see like this!
Windows 10 Taskbar Manager Helper Utility
What if the application you want isn't on the machine you're on now? This situation can happen if an application has some unusual requirements and is only on a handful of computers (and that computer isn't yours!)
No problem! Just use our PolicyPak Start Screen & Taskbar Manager Helper tool to get the item from an example computer to use!
The Helper tool will then examine your desktop for all applicable applications. You can then select any or all of them and export them into an XML file, that you can transport to your management station computer.
When you're ready, you deploy it from your management station, like what you see here.
Once completed, I now have access to the complete application portfolio from the "unusual computer" for me to choose from. In the screenshot below, I have selected Google Chrome as the desktop application I want to pin for my East Sales users.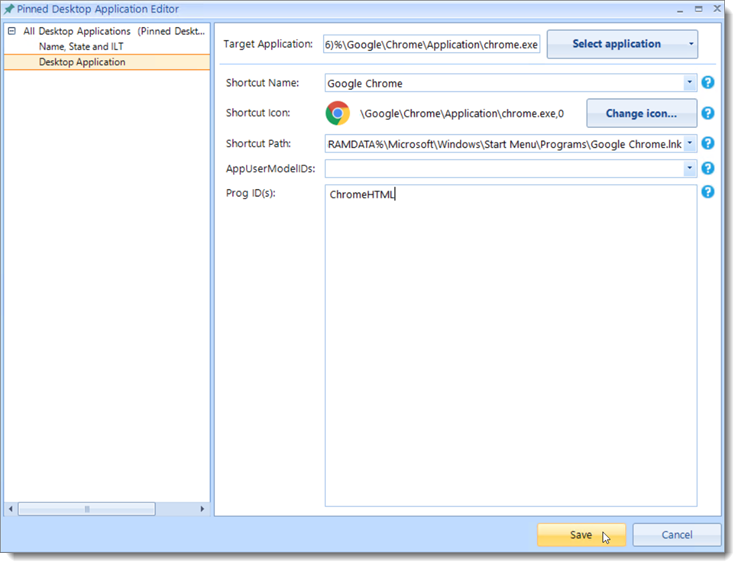 The final result of me pinning Alarms and Clocks, Internet Explorer, as well as Google Chrome, can be seen here. Since I used the Merge function, existing icons are kept.
On the other hand, if you wanted to see what it looks like when I use Replace mode, the result looks like this.
You can see a complete video demonstrating the Taskbar Management process here.
Advanced Windows 10 Taskbar Management
Let's do one final demonstration here. In our previous example, we created a user side GPO, but we can also create a taskbar policy for the computer side as well.
This time let's pin Adobe Reader or Adobe Professional for our East Sales computers.
If you have both applications, maybe you only want to pin one, even if the computer has both applications.
Fortunately, we can easily do this with PolicyPak Item-level targeting.
If you are familiar with Group Policy Preferences, chances are you have used Item-level targeting from time to time to target your policies at a more granular level. At PolicyPak, we took this existing idea and boosted its impact by applying its usage to lots of instances such as this. With Item-level Targeting, you can assign your configuration settings according to things such as group membership, form factor, or IP subnet.
In the screenshot below, I have chosen File Match as my qualifying condition so that only computer with the Adobe Reader.EXE file will receive the policy to perform the pinning of the application.
And I have another policy which will perform the pinning when I have Adobe Professional. And if I have both, I've set it such that only Adobe Professional will win.
Here's what the taskbar then looks like when I do have Acrobat Reader.
And here's what the taskbar looks like when I have Adobe Professional.
You can see a full video demonstration of how Item-level Targeting can enhance your Taskbar Management efforts here.
Final Thoughts
Managing the Windows 10 Taskbar is just one of the many things that PolicyPak does well to make your job easier and your users more productive.
To get your hands on PolicyPak, join us for our daily webinar and learn what thousands of other administrators already know.
It's their secret weapon to manage pretty much everything with Windows 10 using Group Policy (or MDM!)
See our other blog items for details.
The post How to Solve Windows 10 Taskbar Issues Across Domains appeared first on PolicyPak.
Recent Articles By Author
*** This is a Security Bloggers Network syndicated blog from Blog – PolicyPak authored by Ryan Oistacher. Read the original post at: https://www.policypak.com/pp-blog/windows-10-taskbar