PolarProxy Released
I'm very proud to announce the release of
PolarProxy today!
PolarProxy is a transparent TLS proxy that decrypts and re-encrypts TLS traffic
while also generating a PCAP file containing the decrypted traffic.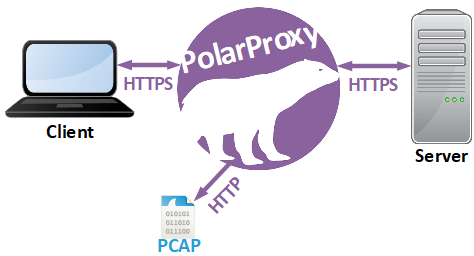 PolarProxy enables you to do lots of things that have previously been impossible,
or at least very complex, such as:
Analyzing HTTP/2 traffic without an SSLKEYLOGFILE
Viewing decrypted HTTPS traffic in real-time using Wireshark

PolarProxy -p 10443,80,443 -w – | wireshark -i – -k

Replaying decrypted traffic to an internal or external interface using
tcpreplay

PolarProxy -p 10443,80,443 -w – | tcpreplay -i eth1 –

Forwarding of decrypted traffic to a NIDS (see tcpreplay command above)
Extracting DNS queries and replies from
DNS-over-TLS (DoT) or
DNS-over-HTTPS (DoH) traffic

PolarProxy -p 853,53 -p 443,80

Extracting email traffic from SMTPS, POP3S or IMAPS

PolarProxy -p 465,25 -p 995,110 -p 993,143
Here is an example PCAP file generated by PolarProxy:
https://www.netresec.com/files/polarproxy-demo.pcap
This capture files contains HTTP, WebSocket and HTTP/2 packets to Mozilla, Google and Twitter
that would otherwise have been encrypted with TLS.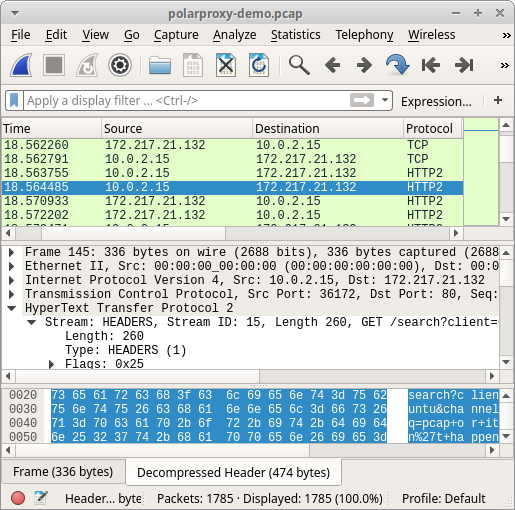 Image: HTTP/2 traffic from PolarProxy opened in Wireshark
Now, head over to our PolarProxy page
and try it for yourself (it's free)!

Share on Facebook

Tweet

Submit to reddit.com
Recent Articles By Author
*** This is a Security Bloggers Network syndicated blog from NETRESEC Network Security Blog authored by Erik Hjelmvik. Read the original post at: http://www.netresec.com/?page=Blog&month=2019-06&post=PolarProxy-Released