Why Use JumpCloud Over Azure AD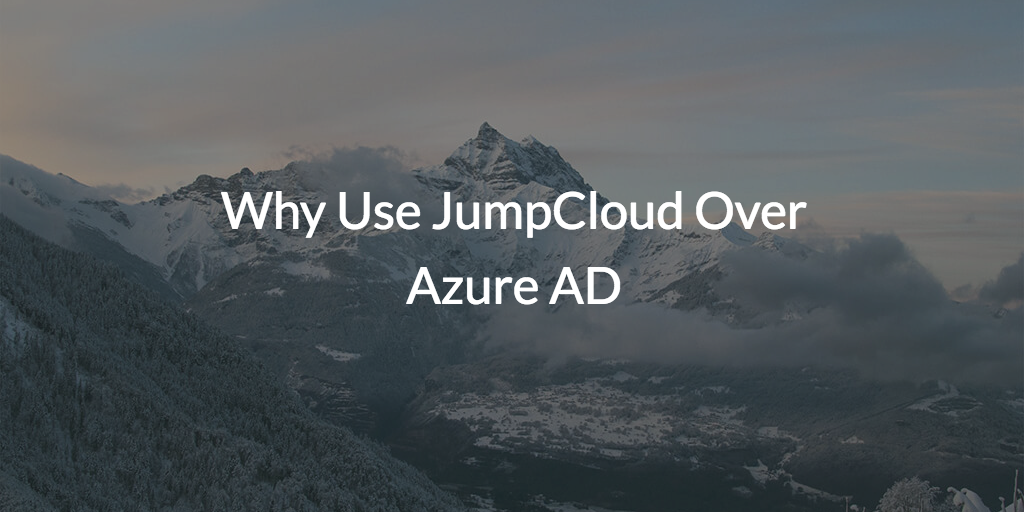 With so many facets of IT available from the cloud, many believe that the next big shift will be to a cloud directory service. At the moment, a couple of big hitters in the cloud directory space are Microsoft® Azure® Active Directory® (AD) and JumpCloud® Directory-as-a-Service®. As IT organizations judge the best option for their needs, many are asking "why choose JumpCloud over Azure AD?"
The Directory Service Checklist
The question is a pertinent one, given JumpCloud's position as an up-and-coming challenger in the space. While no one solution will be a silver bullet, it's best to dive into the aspects of each service to see which will best suit your organization's needs. Generally, directory services can be judged based on the following criteria:
Location
Where does your organization operate best? Are you an on-prem enterprise, or do you want to be cloud-based? Do your employees work remotely? Are you an MSP with multiple clients nation/worldwide? All of these questions of location are essential when considering JumpCloud over Azure AD.
As a primer, Azure AD is designed to be utilized in a complementary fashion to the legacy on-prem directory, Microsoft Active Directory (MAD or AD). By using Azure AD, IT admins can link their on-prem MAD instance to cloud-based resources. Besides that, however, Azure AD is designed more to be a user management system for Azure, rather than a sort of cloud-based replacement to on-prem MAD.
On the other hand, JumpCloud is completely cloud-based. For on-prem resources, JumpCloud takes advantage of the usefulness of LDAP to federate access, and the JumpCloud Agent can be downloaded onto any system regardless of location. With the JumpCloud browser console, user identities and systems can be managed remotely. JumpCloud also features a multi-tenant portal that enables MSPs to easily manage their spread of clients, all from a single pane of glass.
Platforms
When it comes to systems, which OS does your organization need to leverage: Windows®, Mac®, or Linux®? For many of today's businesses, the answer is probably a heterogeneous blend of (Read more...)
*** This is a Security Bloggers Network syndicated blog from Blog – JumpCloud authored by Zach DeMeyer. Read the original post at: https://jumpcloud.com/blog/why-use-jumpcloud-over-azure-ad/