Identity Management Replacement
Microsoft® Active Directory® (AD or MAD) has been dominating the identity management space for nearly two decades. AD has certainly started to show its age, however, with the arrival of web applications and increased use of non Windows® systems. As more chinks appear in the directory service giant's armor, IT admins are starting to wonder if there is an identity management replacement to the legacy, on-prem identity provider approach. Admins will be happy to know that there is a cloud identity management replacement. But, before we dive too deep in the solution, we should dissect the problem first.
Active Directory: The Rise and Fall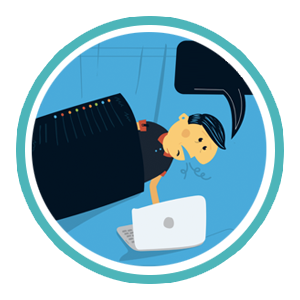 Since its creation in the early 2000s, Microsoft Active Directory was king of the IT playground. The IT network was largely Windows dominated and all on-prem. Microsoft was a powerhouse and for good reason, it only made sense to have all of your IT resources under one umbrella. Solutions like AD and SCCM would be the bedrock for organizations in managing their users and Windows systems—it was like one great IT Matryoshka doll—as far as ease of use goes, admins couldn't ask for much more.
However, with the emergence of non-Windows systems like Linux® and Mac®, web applications like Salesforce, cloud infrastructure like G Suite™ and AWS®, mobile technology, and more, the IT market started to change and look towards the cloud to securely manage networks. Since Active Directory was best suited for Windows products and solutions, IT admins were forced to purchase add on solutions to repair gaps that were cropping up with AD. Using tools like single sign-on (SSO) software, identity bridges, and other add-ons, organizations could patch the holes in the once impenetrable directory service. These quick fix solutions created this hodgepodge identity management system that simply couldn't keep up with the modern day IT network.
Identity Provider Replacement Needed
As these add on solutions became more and more cumbersome to deal with, IT organizations realized that a next generation identity management replacement strategy was needed. It only made sense to attack the problem (Read more...)
*** This is a Security Bloggers Network syndicated blog from Blog – JumpCloud authored by Katelyn McWilliams. Read the original post at: https://jumpcloud.com/blog/identity-management-replacement/