Emsisoft Receives Top Award in AV-Comparatives Malware Test
Emsisoft has once again received top marks from AV-Comparatives!
AV-Comparatives, an independent security software testing company, recently published its 2018 Malware Test Report, and we're happy to announce that Emsisoft has been awarded the coveted Advanced+ Award.
Beyond Detection: Malware Protection
With the proliferation of increasingly sophisticated malware, detecting them alone is no longer enough. When in the past viruses are the "only" problems to worry about and are simply spotted and blocked, today's malware variants are advanced enough to avoid detection. It is still important for security software to detect malware, but unlike the days of Internet old, detection now needs to be a part of a more robust and strategic anti-malware program to achieve a truly effective overall system protection.
Emsisoft's multi-layered approach to Internet security offers complete and reliable protection from malware. Emsisoft Anti-Malware blocks, prevents, and eliminates threats, leaving you with the peace of mind that your PC is secure.
Emsisoft Achieves Advanced+ Award
Malware authors are only getting better at designing and deploying malware attacks, so AV-Comparatives designed a rigorous test to measure the effectiveness and adaptability of security programs, including executing any missed samples for a more complete assessment.
The Malware Test focused on security programs' ability to detect malware offline and online, protect systems online — before, during, and after the execution of malware — and false alarms. Not surprisingly, Emsisoft performed exceptionally well and emerged as a top antivirus and anti-malware software program. With a 98.8% online and offline detection rates, leveraged by a 99.98% online protection rate, Emsisoft is proven to provide the complete protection from multiple attack vectors, in different scenarios.
According to AV-Comparatives the results of this latest Malware Protection Test is a great complementary to its Real World Protection Test, from which Emsisoft has excelled as well.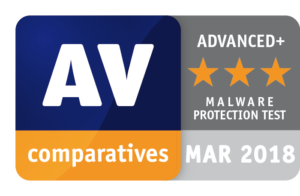 We are incredibly proud of our Advanced+ Award. This achievement is only made possible because of our commitment to deliver only the best to our customers. Always with integrity, we simply offer efficient and effective anti-malware, for your computer and you.
Who is AV-C
AV-Comparatives is an Austria-based organization that performs IT security product testing known for their independent and "real-world" testing methodology. Evaluations by AV-Comparatives are highly trusted by consumers and security industry experts alike, including PCMag and CNET editors.
Click here to read the full 2018 Malware Test Report (PDF, ungated). To learn more about how we help keep safe on the web head on to our Emsisoft Anti-Malware page.
As always we wish you an awesome (and malware-free) day!
The post Emsisoft Receives Top Award in AV-Comparatives Malware Test appeared first on Emsisoft | Security Blog.
*** This is a Security Bloggers Network syndicated blog from Emsisoft | Security Blog authored by Katherine. Read the original post at: https://blog.emsisoft.com/en/30977/emsisoft-receives-top-award-in-av-comparatives-malware-test/