New GDPR-Focused Media Hub Launched By IDG/CIO and Hewlett Packard Enterprise
Do you have questions regarding the pending enforcement of the European Union's General Data Protection Regulation (GDPR) and its impact on your business?  If so, look no further — GDPR & Beyond launched this week. GDPR and Beyond is a new online media hub developed for Information Governance and Security professionals looking to understand more about GDPR and how it is going to impact a company's collection, maintenance and protection of its customers' data.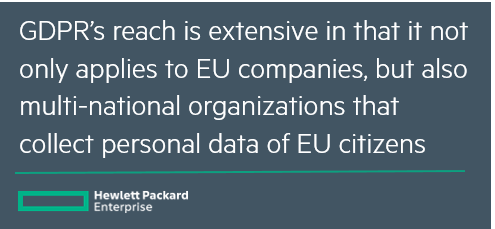 GDPR's reach is extensive in that it not only applies to EU companies, but also multi-national organizations that collect personal data of EU citizens. GDPR mandates tighten and deepen governance, data security and data privacy to ensure the adequate protection of the fundamental rights and freedoms of EU citizens with regard to their personal data.
The website, sponsored by Hewlett Packard Enterprise (HPE), features insightful articles, interviews and videos from an experienced and knowledgeable editorial team at IDG/CIO Magazine, with key inputs for selected content from HPE subject matter experts including David Kemp – specialist business consultant, Tim Grieveson – chief cybersecurity strategist, and Sudeep Venkatesh – global head of pre-sales for HPE Data Security.
Below is a sample of the type of interactive content included on the website:
How can I find the information and personal data that will fall under these regulations?
How can I cost effectively respond to legal matters requiring information under my management?
How can I protect, store and securely back up personal data?
What types of data protection technologies can help to secure data without breaking business processes?
How can I identify information for disposition in accordance with the "right to be forgotten?"
Can I report a breach within the timeline required by the EU data protection regulations?
How can I reduce my overall risk profile?
GDPR & Beyond aims to foster discussion and idea exchange around the topics of how IT and the lines of business must collaborate to drive GDPR compliance by the May 25, 2018 effective date. Included in the content will be an assortment of educational, thought-leading and opinion-based articles that discuss how organizations' efforts to comply enable them to become more efficient in their use of data and their ability to mitigate risk.
More content will continue to be posted to the GDPR & Beyond site in addition to current highly valuable articles:
Visit GDPR & Beyond today to learn more about how to prepare for GDPR.
The post New GDPR-Focused Media Hub Launched By IDG/CIO and Hewlett Packard Enterprise appeared first on HPE Security – Data Security.
*** This is a Security Bloggers Network syndicated blog from HPE Security – Data Security authored by Lori Hall. Read the original post at: http://feedproxy.google.com/~r/voltage/VDQg/~3/YvkanqqmDRc/