Emsisoft Anti-Malware wins one more VB100 Award!
Virus Bulletin just released the test results of their annual comparative review of anti-malware products. We are proud to announce that Emsisoft Anti-Malware can add one more VB100 award to its list.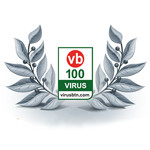 The Virus Bulletin-testers specifically pointed out Emsisoft's low use of resources:
"Emsisoft passed all our tests in the last year. In this test, performance was good, with very low use of resources and an excellent showing in the certification sets."
The test was conducted before the release of Emsisoft Anti-Malware 11, therefore we participated with Emsisoft Anti-Malware version 10.
About Virus Bulletin
Virus Bulletin is a neutral authority that conducts some of the most respected tests in the antivirus industry. It gives a good overview of how stable antivirus products are over time.  In this test, the VB test team put 28 products through their paces on Windows 7 64-bit, since the testing began shortly before the release of Windows 10. You can find the full report in the August 2015 edition of Virus Bulletin.
Have a great (malware-free) day!
This is a Security Bloggers Network syndicated blog post authored by Monika. Read the original post at: Anti-Malware Reviews