Still on Top: Emsisoft's Advanced Performance in File Detection Test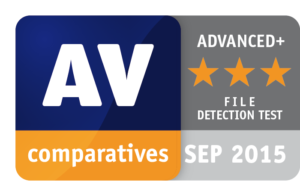 The non-profit antivirus testing organization, AV-Comparatives has recently released its September report, "File Detection Test of Malicious Software." The verdict is in: Emsisoft has proven itself once again to be more than just reliable, but outstanding. Emsisoft Anti-Malware has received an Advanced+ award, the highest rating that the AV-Comparatives test delivers.
How the AV-Comparatives work
AV-Comparatives uses relevant malware samples to test anti-malware programs. This means it uses samples of what has actually been endangering users for weeks and months leading up to the test, making it a very relevant and accurate measure of protection against real-life threats.
In this specific file detection test, AV-Comparatives tested 21 anti-malware products with 166,624 malware samples.
In this graph, you can see that Emsisoft placed second in detecting malignant files, successfully detecting 99.7% of all potential offenders.
Why false positives matter
The other element that was explained in this report was the issue of false positives. Too many false positives can be as bad as not detecting enough malignant files in the first place, because this indicates an unreliable program. No product is completely immune from false positives, and it's also impossible to test all the legitimate files a computer can encounter. But AV-Comparatives believes that an effective test uses an independently-curated group of files, and then tests them consistently with each anti-malware program.
Emsisoft Anti-Malware came through with very low amount of false positives. Combined with our high detection of malignant files, this put Emsisoft in the prime position to receive the Advanced+ award.
We never stop delivering quality
Another Advanced+ award just adds to the long list of superlatives Emsisoft has received in the anti-malware industry. But that doesn't mean we'll get complacent. We are still doing our duty to maintain the highest standards as an AV-Comparatives 2014 Top Product – through 2015 and beyond.
Have a great, false-positive free day!
This is a Security Bloggers Network syndicated blog post authored by Monika. Read the original post at: Anti-Malware Reviews